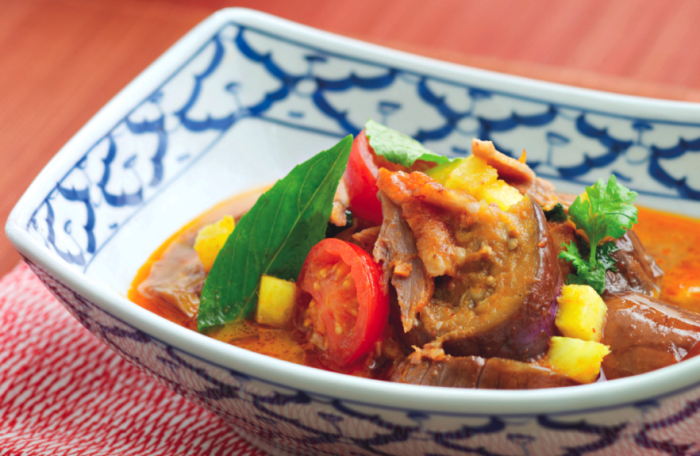 If you're tired of ordering the same Thai takeout, turn to Katie Chin — known to her fans as the "Asian Rachael Ray." Her new cookbook is full of the Thai classics you love, demystified for the home cook. Curry has never been easier when someone else is worrying about the duck. Genius!
There's just something magical about the combination of pineapple, duck and red curry which explains why it's one of the most popular Thai curries. The spiciness of the garlic, chili and curry is tempered by the creamy coconut milk and sweet pineapple. As this dish calls for pre-roasted Chinese duck, you can get dinner on the table in a matter of minutes. Look for a Chinese deli in your local Chinatown or Asian neighborhood which has ducks hanging in the windows. I always head to Sam Woo in LA for my roast ducks. For a bright finish, squeeze a wedge of fresh lime over it before serving.
Ingredients
1

tablespoon

high-heat cooking oil

1

garlic clove, minced

1

teaspoon

minced galangal or fresh ginger

1

fresh hot red or green chili, preferably Thai (deseeded for less heat), finely sliced

3

tablespoons

thick red curry paste

2

tablespoons

fish sauce

2

tablespoons

palm or brown sugar

2

kaffir lime leaves, torn in half (optional)

8

ounces

roast Chinese duck, thinly sliced

1

Asian eggplant, cut 1/2-inch lengthwise and then sliced crosswise into wedges

2

cups

coconut milk

1

cup

basic chicken stock or store-bought

1 1/2

cups

diced fresh pineapple

8

small cherry or grape tomatoes, halved

4

tablespoons

fresh Thai or Italian basil leaves

4

tablespoons

fresh coriander leaves (cilantro)

4

tablespoons

fresh mint leaves
Directions
Heat the oil in a skillet over medium-high heat. Add the garlic and ginger and stir-fry until fragrant, about 30 seconds. Reduce heat to medium and add the thick red curry paste, stirring to break it up, about 1 minute. Add the fish sauce, palm sugar and kaffir lime leaves, if using, and cook for 2 minutes, while stirring to combine.
Add the duck, eggplant and coconut milk and bring to a gentle boil. Reduce heat to medium-low and simmer for 5 minutes. Add the pineapple and cherry tomatoes, simmer for 2 more minutes. Add the basil, fresh coriander leaves and mint leaves; cook for 30 seconds or until basil is wilted. Dish out and serve immediately with jasmine rice.
More Thai recipes on Food Republic: