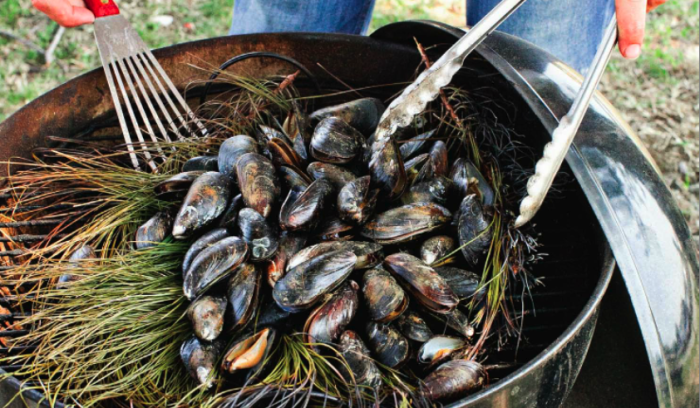 Chef Barton Seaver is Director of the Healthy and Sustainable Food Program at Harvard's School of Public Health, and a damn good cookbook author. His new book, Where There's Smoke, is on our list of spring must-reads. Next up, mussels on the grill with a piney twist.
This is a dish that captured my heart many years ago. I read about it, éclade des moules, in some novel, possibly Dickens or Eleanor Clark. This preparation has roots in a French seaside tradition of a large cookout similar to a New England clambake. Pine is usually avoided in barbecue circles, as the resinous smoke can be overpowering and bitter. But given the quick cooking time of mussels, this highly aromatic and dense smoke is a perfect touch.
I like to serve these with tarragon aioli, as the cool flavor of tarragon softens the pitch flavor of pine. But any way you present this, it is an impressive undertaking and one that is sure to have all your guests gathered around the grill to watch. The Normandy region on the northern coast of France is famous for its fermented apple cider. Effervescent, dry, and low in alcohol, it is an amazingly great partner to this dish.
Ingredients
1

large egg yolk

1

tablespoon

white wine vinegar

1

clove

garlic, grated on a Microplane or very finely minced

leaves from

8 sprigs fresh tarragon, chopped

kosher salt

2

cups

canola oil

4 to 6

pine boughs, enough to cover the grill surface

4

pounds

mussels, thoroughly scrubbed and debearded (discard any that won't close)
Directions
Mix the egg yolk, vinegar, garlic, tarragon and a pinch of salt in a medium bowl. Whisk to combine, then begin to add the canola oil in a slow, steady stream. Continue whisking as you add the oil and, remember, patience is the key. The sauce will thicken as you add the oil until it is a smooth mayonnaise; if it gets too thick, add a couple of drops of water to thin it out. Cover tightly and refrigerate until ready to serve or up to 2 days (any longer than that, and the garlic flavor gets too strong).
Place the pine boughs over a medium fire in which the coals have been spread out around the base grate. As soon as the pine begins to sizzle and release wisps of steam and smoke, scatter the mussels over the boughs and cover the grill. The pine will smolder and smoke, perfuming the mussels as they pop open. Uncover the grill and check them after 7 minutes. Remove the mussels that have opened, which should be most of them. Continue to cook those that haven't opened for another 5 minutes or so.
Discard any that insist on remaining closed.
Place one of the charred pine boughs on a platter and pile the mussels around it. Provide toothpicks and serve them with a bowl of the aioli.
Check out these mussels recipes on Food Republic: