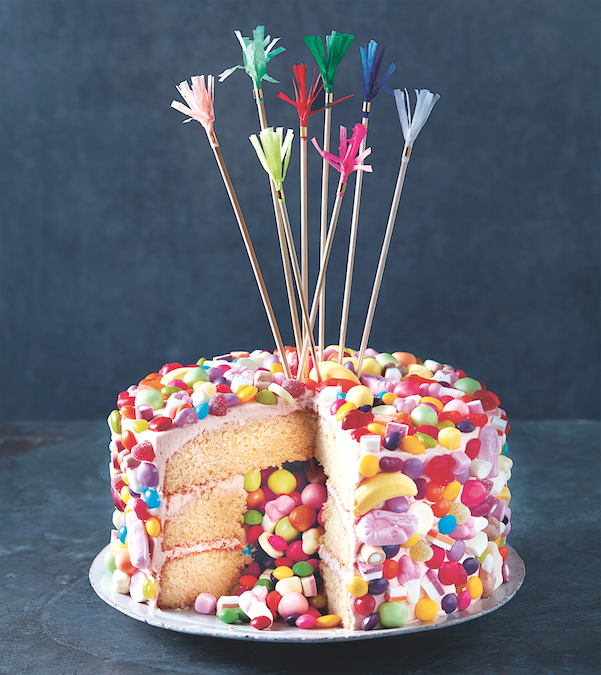 Surely you've seen the advent of multicolored cuisine hitting today's hottest food porn streams. Whether you call it unicorn, rainbow, tye-dye or what have you, there's no way around it — this stuff is colorful, cute and (frequently) delicious. Learn how to make a pinata cake and surprise your guests with its colorful interior!
The ultimate party centerpiece — one slice of this impressive cake will reveal its hidden sweet secret! Choose your own color icing and type of candies.
Ingredients
1 1/2

cups

unsalted butter, softened, plus extra for greasing

1 3/4

cups

superfine sugar

6

large eggs

2 2/3

cups

all-purpose flour

2 1/2

teaspoons

baking powder

1

teaspoon

fine salt

1

teaspoon

vanilla extract

4

tablespoons

whole milk
Buttercream
2 1/4

cups

unsalted butter, softened

7- 7 1/4

cups

powdered sugar, sifted

1

teaspoon

vanilla extract pink food coloring paste (or your chosen color)
To Decorate
35

ounces

colorful mixed candies
Materials
Round cookie cutter, about 4 inches diameter
Directions
For the cake
Preheat the oven to 350°F. Grease and line three 8-inch round cake pans with parchment paper.

Using an electric hand mixer, beat the butter and superfine sugar together in a large bowl until light and fluffy. Add the eggs, one at a time, beating well after each addition. Sift in the flour, baking powder, and salt and fold through evenly with a large spoon. Stir in the vanilla extract and milk until combined.

Divide the mixture between the prepared pans, spreading evenly. Bake for 20 to 25 minutes, or until a skewer inserted into the center comes out clean. Let cool in the pans for 5 minutes, then turn out onto a wire rack and let cool completely.

Meanwhile, for the buttercream, beat the butter, powdered sugar, and vanilla extract together in a bowl until light and fluffy. Stir in pink food coloring paste, until you reach your required color.

Once the cake layers are cold, take one layer and cut a hole out of the center using the cookie cutter. Repeat with a second cake layer. Sandwich these two layers together with some pink buttercream, then cover the top layer with more buttercream. Fill the central hole with mixed candies, then place the final uncut cake layer on top to enclose the candies completely.

Use the remaining buttercream to cover the cake completely, then gradually (without eating too many!) cover the whole cake with the remaining mixed candies.