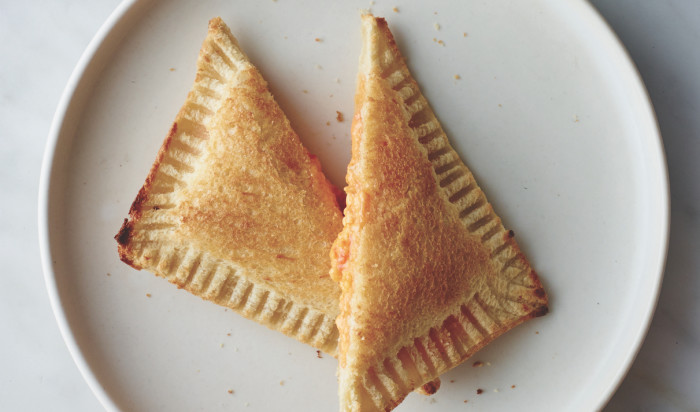 Mad Genius Tips is Food & Wine's new gift to the home cooking community. Join senior editor Justin Chapple in chapter after chapter of simple hacks you never knew you needed in your kitchen. Learn a simple, resourceful trick for making the best pimento cheese-stuffed sandwiches and never make them the old way again.
Food & Wine contributing editor Andrew Zimmern is a fearless eater. I can't pronounce half the things he eats on his Travel Channel show, Bizarre Foods, but he taught me this genius grilled cheese trick. You crimp the edges of the bread with a fork so it holds in all the oozy filling.
Ingredients
1

cup

sharp yellow cheddar cheese, shredded

1/2

roasted red bell pepper, chopped

1

tablespon

finely grated onion

1/4

cup

mayonnaise

Kosher salt and pepper

8

slices

white sandwich bread, crusts removed

Softened butter, for brushing
Directions
For the sandwich
In a food processor, combine the cheddar cheese with the roasted bell pepper, onion and mayonnaise and pulse until the cheese and pepper are coarsely chopped. Season the pimento cheese with salt and pepper.

Spread 4 slices of bread each with 3 to 4 tablespoons of the pimento cheese, leaving a ½-inch border. Top with the remaining bread slices and, using a fork, crimp the edges of the sandwiches to seal them tightly. Refrigerate for 15 minutes.

Set a griddle over two burners and turn the heat to moderate. Butter both sides of the stuffed sandwiches. Griddle over moderate heat, turning once, until the sandwiches are lightly browned and the cheese is melted, about 4 minutes. Serve.