Pickled Shrimp With Fennel Recipe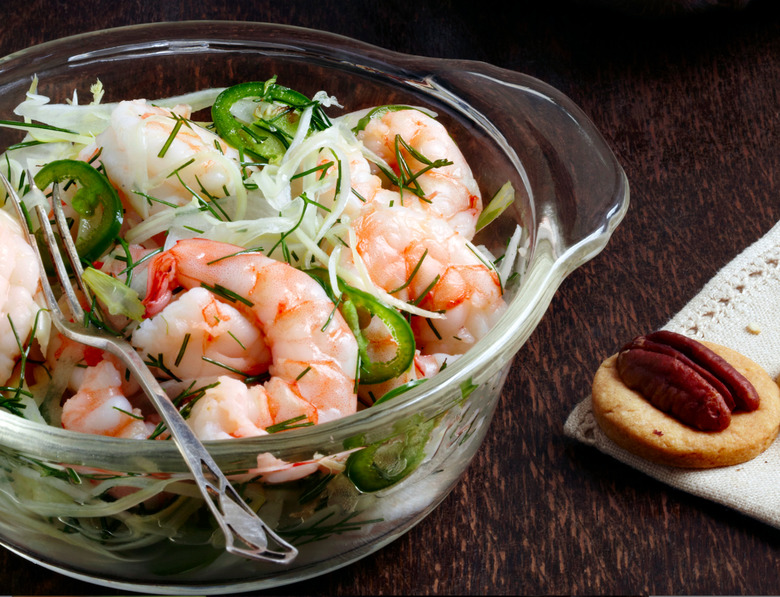 We may receive a commission on purchases made from links.
Matt and Ted Lee, James Beard Award-winning chefs from South Carolina, recently released The Lee Bros. Charleston Kitchen (high up on our list of spring cookbooks to look out for). Inside is a wealth of classic homestyle and elevated Southern food we couldn't wait to sink our teeth into. Next up, a surprisingly perfect pairing of pickled shrimp and fennel. 
History aside, pickled shrimp and fennel are perfectly complementary. After all, we often encounter fennel's close cousins, dill (or dill seed) and celery (or celery seeds), in many preparations of this classic hors d'oeuvre. Served in a bowl for self-service with toothpicks, pickled shrimp may also be a passed hors d'oeuvre on a plate if you use the sturdy bamboo picks found in many party stores these days.
One of the advantages of this recipe is that the marinated fennel pushes the pickled shrimp into the cold-salad realm: it's easy enough to strew several of the shrimp and strips or rings of the fennel over butter lettuce to create a pretty appetizer salad.
Reprinted with permission from The Lee Bros. Charleston Kitchen
Pickled Shrimp With Fennel Recipe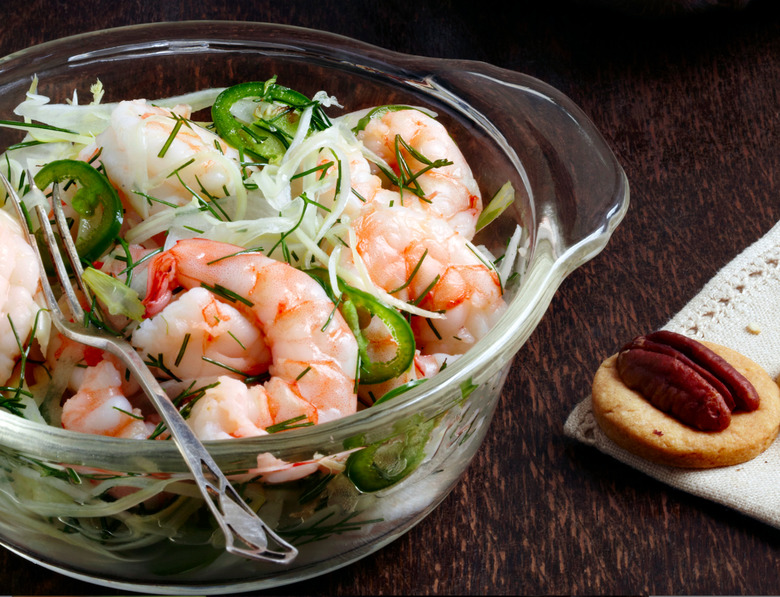 Ingredients
1 tablespoon plus 1 1/2 teaspoons kosher salt
2 pounds (21 to 25 count) large shrimp
1/2 cup white wine vinegar
1 cup fresh lemon juice (from about 7 lemons)
1 small fresh bird or Serrano chile (green or red)
1 teaspoon sugar
1 small white onion
1 small fennel bulb
1 tablespoon chopped fennel fronds
Directions
Fill a medium stockpot with 2 quarts of water, add 1 tablespoon of the salt and bring to a boil over high heat. Prepare an ice bath in a large bowl. When the salted water boils, turn off the heat, add the shrimp, stirring them once or twice to distribute them and cook until uniformly pink-opaque and just done, about 1 minute. With a slotted spoon, transfer the shrimp to the ice bath. Reserve 2 cups of the shrimp-cooking liquid in a medium bowl.
With the slotted spoon, transfer the shrimp to a plate lined with a double thickness of paper towels. (Don't dump the ice bath yet!) Add the vinegar, lemon juice and chile to the bowl with the shrimp-cooking liquid and whisk in the remaining 1 1/2 teaspoons salt and the sugar until dissolved. Set this bowl of brine in the ice bath (add more ice to the bath if needed) and whisk until the liquid cools to room temperature.
Dump the ice bath and use the cold large bowl to toss the shrimp, onion, fennel slices and fennel fronds. Pour the cooled brine over the shrimp. Cover with plastic wrap and refrigerate for about 1 hour, tossing once, until chilled and ready to serve. (Pickled shrimp will keep in the refrigerator for about 2 days.)
Shrimp And Scallop Burger Recipe
Shrimp And Black Bean Salad Recipe
Smashed Shrimp Shumai Recipe