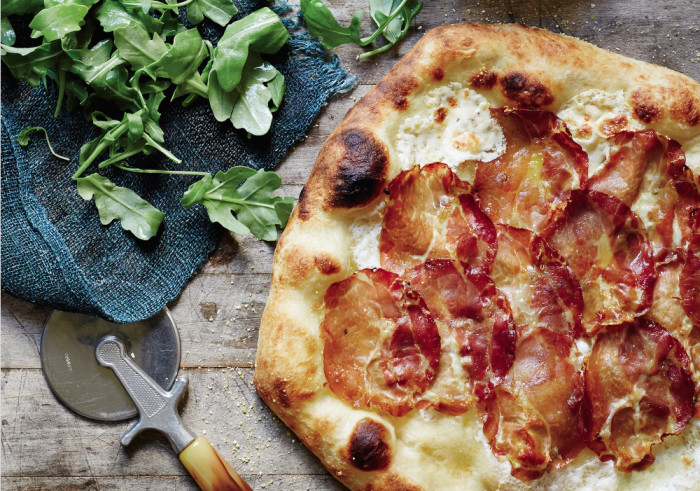 The great thing about a pizza crust is it even looks like a blank slate! And that's just what it is, which is why you should pick up a copy of culinary author Suzanne Lenzer's new book, Truly Madly Pizza. Whether you're going for a carnivore's dream or lightening up with roasted vegetables and herbs, a devout mozzarella sprinkler or on the hunt for something more pungent, there's a recipe in this book for you. 
Quick pickled onions are like preserved lemons — they're an easy way to add a bit of brightness to dishes, and they're beautiful to boot. The pickling liquid is tinted purple, and the onions are stained a vibrant, almost otherworldly peony pink hue. Sweet-sour onions with verdant arugula and spiced coppa is admittedly bold, but there's subtlety in the mix of textures. The coppa (a kind of dry-cured pork shoulder not unlike prosciutto) becomes a bit leathery when it cooks, like a jerky, while the crispness of the salad and tenderness of the pickles all ricochet off one another in a very layered way. Save the extra onions in an airtight jar and scatter them on fish tacos, roasted-pork sandwiches, or almost anything — they're one of those keepers you'll find a way to use even when it's not pizza night.
Ingredients
1/2

cup

water

1/2

cup

distilled white vinegar

2

tablespoons

sugar

1/2

teaspoon

sea salt

1

bay leaf, preferably fresh

1

dried red chile

1

red onion, thinly sliced

1

ball pizza dough, thawed if frozen

1

tablespoon

extra-virgin olive oil

About 3

ounces

fresh mozzarella cheese, torn into bite-sized pieces

6 to 8

slices

coppa, bresaola or prosciutto

A few

handfuls of

baby arugula
Directions
Preheat the oven to 550°F.

In a small saucepan, bring the water to a boil. Add the vinegar, sugar, salt, bay leaf, and chile. Add the onions, reduce the heat, and let simmer for 1 minute. Remove the pan from the heat and let cool completely.

Shape the pizza crust as directed in the master recipe. Brush the crust with the oil, leaving about a 1-inch border all around. Scatter the mozzarella over the crust and lay the coppa over the cheese so the pieces overlap slightly.

Transfer the pizza to the oven and bake until the crust is nicely browned, 6 to 10 minutes. Meanwhile, in a medium bowl, toss the arugula with as many onions as you like, letting the pickling liquid serve as a light dressing for the greens. To serve, top the pizza with the arugula and onion salad.
More pizza recipes and stories on Food Republic: