Pickled And Smothered Pork Chops Recipe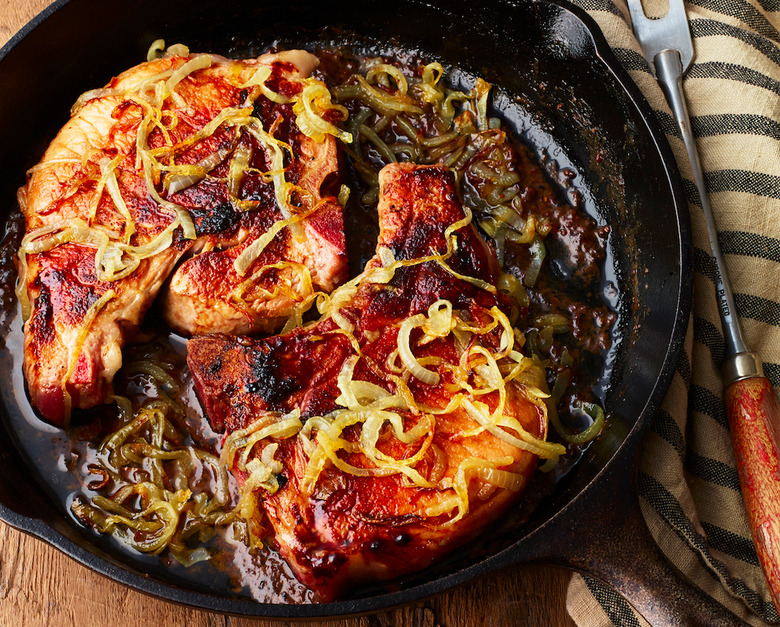 We may receive a commission on purchases made from links.
If you thought a book about pickled and fermented stuff would be all Greek yogurt and kombucha, you might be right. But if you pick up Cultured Foods For Your Kitchen by culinary specialist and cookbook author Leda Schientaub, you'll be presently surprised by meaty soups, hearty pastas and delicious fried stuff...all enhanced by the cultured ingredients in your pantry and fridge (or the ones you make yourself). Don't toss that pickle juice! Pick up some pork chops and get brining.
Pickle juice serves as our brine for a moist, tender and infused-with-flavor chop. You can use pickle juice as the brine for other cuts of meat such as steak, chicken and turkey, too: remember this and you'll never toss the juice from your pickle jar again! The chops are finished with mustard and créme fraîche for a cultured flourish, thanks to the superior flavors that fermentation brings to the plate. Serve with cultured applesauce and it will be over the top.
Reprinted with permission from Cultured Foods For Your Kitchen
Pickled And Smothered Pork Chops Recipe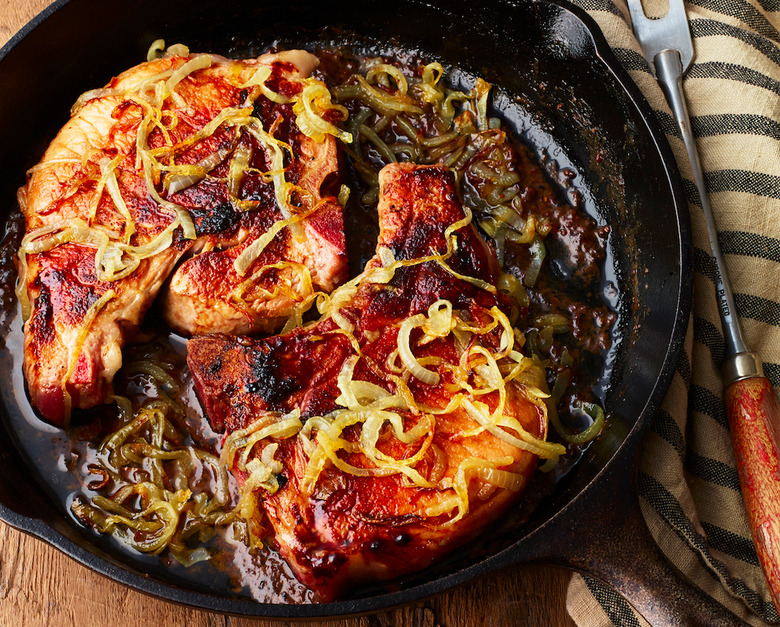 Ingredients
4 bone-in center-cut pastured pork chops (about 1 1/2 pounds)
2 cups pickle juice
2 tablespoons extra virgin olive oil
3 onions
1/2 teaspoon fine sea salt
1/2 teaspoon unrefined brown sugar
splash of white wine
2 teaspoons juiced-up mustard (recipe below)
1/2 teaspoon ground caraway seeds
1/4 cup creme fraiche
1 tablespoon cultured butter
freshly ground black pepper
dill pickle spears
1/4 cup yellow mustard seeds
1/4 cup brown mustard seeds
1/2 teaspoon ground turmeric
1/2 cup pickle juice
1 tablespoon maple syrup or unpasteurized honey
Directions
Pulse the yellow and brown mustard seeds in a blender until coarsely ground. 
Add the turmeric, pickle juice and maple syrup to the blender and blend until smooth, or with some mustard seed bits remaining if you like your mustard coarse-grained, adding a little water or more pickle juice, if you have it, if the mixture is too thick.
Transfer to a jar, cover tightly and leave in a cool place away from sunlight for 3 or 4 days, depending on the season and kitchen temperature. The aroma and consistency of the mustard won't really change, but know that the good bacteria are doing their job of infusing the mustard with probiotics just the same.
Transfer to the refrigerator and refrigerate for at least 2 days before using; this allows the flavors to settle and the pungent mustard bite to mellow. The longer you keep it, the more it will mellow. It will keep for about 6 months in the refrigerator.
Put the pork chops in a nonreactive shallow bowl or container and pour pickle juice over them to cover. 
Cover and refrigerate for 8 to 24 hours to marinate.
Heat the oil in a large sauté pan over medium heat. 
Add the onions and salt and cook, stirring often, until very soft and starting to caramelize, about 20 minutes.
Transfer the onions to a bowl, cover with a plate to keep them warm, and wipe the pan with a paper towel (rinse the pan if any onion bits are sticking to the pan). 
Turn the heat under the sauté pan to medium-high and get it nice and hot. 
Remove the chops from the brine, discard the brine and pat the chops dry with paper towels.
Rub both sides with a small amount of oil to lightly coat. 
Sprinkle 1/8 teaspoon brown sugar on the meatier side of each chop.
Add the chops to the pan (in batches if necessary), sugared side down, and cook for about 5 minutes, until lightly browned.
Turn the chops, cover the pan, reduce the heat to low and cook for another 3 to 4 minutes, until the chops are just cooked through and the internal temperature reads 145°F.
Transfer the chops to a large plate to rest while you make the pan sauce. 
Increase the heat under the pan to medium-high, add the wine and stir to release any browned bits from the bottom.
Remove from the heat and stir in the mustard and caraway seeds. 
Swirl in the créme fraîche followed by the butter, season with salt and pepper if needed, return the chops to the pan along with their juices and turn to coat them in the sauce.
Divide the chops among serving plates and top with the onions and some créme fraîche. Serve with pickle spears alongside if you like.
Chai-Brined Pork Chops With Apple Chutney Recipe
Sage-Garlic-Brined Pork Chops Recipe
Cider-Brined Pork Chops With Maple-Bacon Chutney Recipe