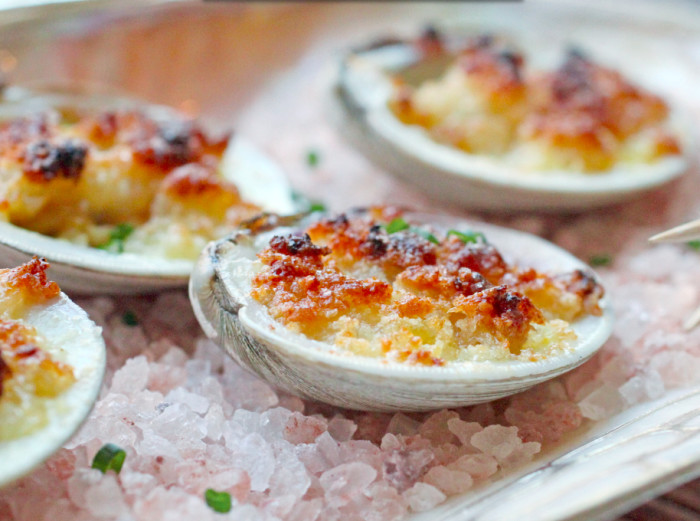 We're super-excited for the brand-new cookbook out this week from one of our favorite chefs out there, Aliya LeeKong, chef and creative culinary director at NYC's Indian fine dining mecca, Junoon. Aptly titled Exotic Table: Flavors, Inspiration, and Recipes From Around The World—To Your Kitchen, this is one volume your kitchen library isn't complete without. And yes, we all have big crushes on her, but also her spectacular cuisine. Deal with it by making these savory Peruvian-influenced clams on the half shell.
While I was in Lima, I learned how to make conchitas à la parmesana, which are scallops on the half shell with aji amarillo, buttery Parmesan, and bread crumbs. When I came back, I thought local, littleneck clams would make the perfect substitute, and these little guys have quickly moved into my favorite spot for an easy and light hors d'oeuvre. Tasty and addictive, you can prep these ahead of time and throw them under the broiler for a few minutes once guests arrive.
I use Pisco here, which is a grape brandy popular in both Peru and Chile, but tequila, a little whiskey, or even white wine would produce equally delicious results.
Ingredients
coarse rock salt, for baking

2

dozen medium

littleneck clams, shucked with half-shells reserved

1

tablespoon

aji amarillo or other chili paste

2-3

tablespoons

Pisco liqueur

3/4

teaspoon

roasted garlic, pureed

1/4

cup

panko or plain breadcrumbs

1/4

cup

freshly grated Parmigiano-Reggiano

3

tablespoons

unsalted butter, melted

salt, to taste
Directions
Preheat the broiler to high and place the rack in your oven on the second highest rack.
On one large baking sheet or two small ones, make a layer of rock salt as a bed and lay the half clamshells on top of the rock salt in a single layer. Place one clam inside each half shell. Place 1/8 teaspoon of the aji amarillo paste and a few drops of Pisco liqueur on each clam.
In a medium bowl, mix together the roasted garlic purée with the bread crumbs, Parmigiano-Reggiano and melted butter. Salt to taste.
Place 1 to 2 teaspoons of the bread crumb mixture on each clam and place clams under the broiler. Broil for 3 minutes.
Let cool slightly before serving and garnish with the thinly sliced chives. I usually gives guests a toothpick or small fork to eat these.