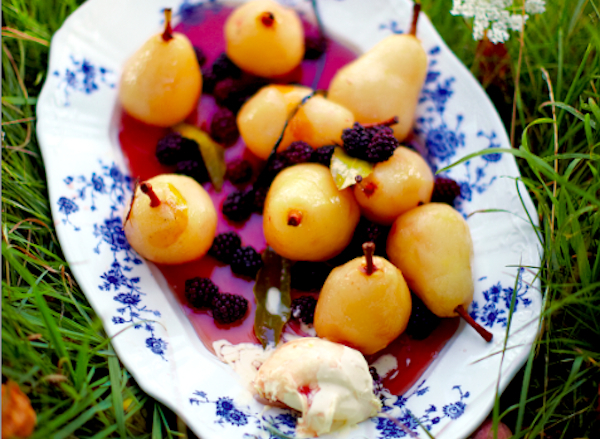 Some people say it's hard for fruit-based desserts to hit that pleasure spot in the same way a cake or pudding can, but honestly these poached pears with this syrupy brambley sauces are really heavenly — and actually very convenient for something like a dinner party. The brambles (raspberries or blackberries, as they are also known) add a richness and gentle acidity that works so well with the sweet pears. Plus, they look like little jewels on the platter so you'll earn points for presentation, which is never a bad thing.
Ingredients
1

quart

good-quality apple juice or apple cider

1

cup

Demerara Sugar

3 or 4

fresh bay leaves

1

vanilla bean, halved lengthways, seeds scraped out

2

cloves

1

small lemon or orange

8

firm pears

5

ounces

raspberries or blackberries

(optional)

clotted cream, whipped cream, ice cream or custard, to serve
Directions
In a deep-sided pan, heat the apple juice or apple cider and the sugar together on a high heat with the bay leaves, the vanilla bean and seeds, the cloves and a few strips of peel cut from the lemon or orange. Cook for 5 minutes, or until the sugar has dissolved into a light, thin syrup.
While that's happening, carefully peel the pears so they look beautiful, leaving their stalks on if you can. Take the pan off the heat and sit the pears inside, taking care not to splash the hot syrup but making sure the pears get covered.
Scrunch and wet a piece of parchment paper and place it on top of the pears, forming a sort of lid, so they are completely covered. Turn the heat down to low and simmer slowly for about 20 minutes, or until the pears are lovely and soft but still holding their shape nicely. To test whether they're done, just poke one with a small knife until you hit the core – if the knife slides in easily, they're good to go.
Carefully move the pears to the middle of a cute serving platter using a slotted spoon, and just pop in the oven at the lowest temperature to keep warm.
Turn the heat under the pan up to high and reduce the syrup down for 30 minutes, or until it's just thick enough to coat the back of a spoon. Stir it occasionally to make sure it isn't catching. At this point, add the brambles and cook for 5 minutes, or until the syrup turns an amazing color.
To serve, take the platter out of the oven and carefully pour the syrup all over the top of the pears. Blob some clotted cream, whipped cream or ice cream on the side, then put right in the middle of the table.
More fruit-based dessert recipes on Food Republic: