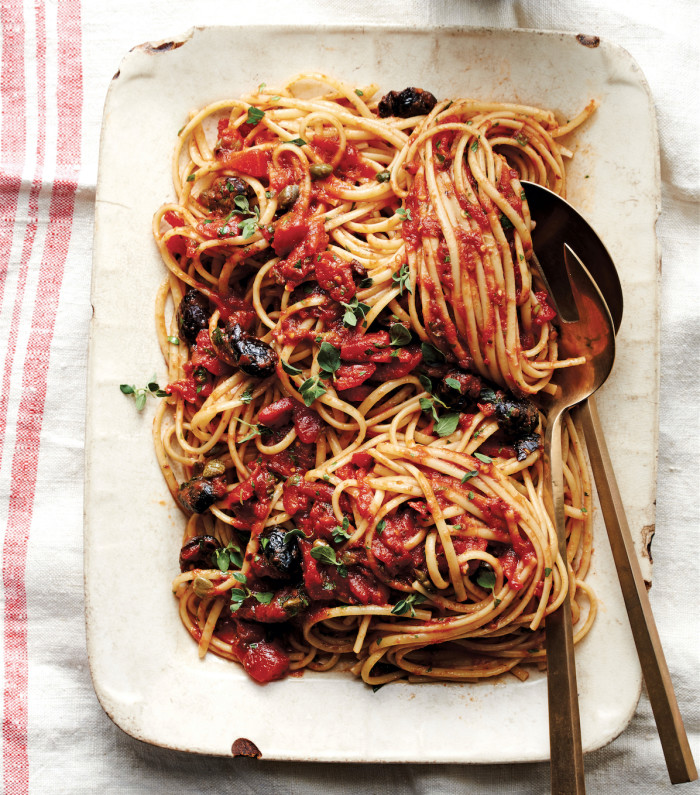 Everyone needs a few go-to pasta recipes for an quick weeknight dinner or simple supper. A "back pocket pasta," if you will. Food writer and Instagrammer Colu Henry has a new cookbook out packed with simple, inventive and classic pasta dishes. This perfect pasta puttanesca will feed a hungry crowd in under an hour, in great style. 
The name of this pasta cries shelf dinner (and plenty of other scandalous things). After researching the origins of this Ital­ian dish, I still couldn't find a straight answer, but I think we all can agree that it uses many items that one should always have on hand: olives, capers, anchovies, and tomatoes. I've made this for a group of 14 when traveling through Provence as well as for many a dinner party in Portland, Oregon. It works everywhere, for every palate.
Cook's Note: If you don't have anchovies, use tuna or sardines, or skip the fish altogether! No oil-cured black olives? Use whatever jar of cocktail olives is hanging around in your fridge. What's important here is a red, salty sauce with some funk — get down and dirty with it.
Ingredients
2

tablespoons

olive oil

3

cloves

garlic, thinly sliced

1

2-ounce can

anchovy fillets

1/2

teaspoon

crushed red pepper flakes, or more if you like extra heat

1

tablespoon

tomato paste

1

28-ounce can

diced San Marzano tomatoes

1

cup

pitted and halved oil-cured black olives

2

tablespoons

capers, rinsed well if salt-packed

1

tablespoon

chopped fresh oregano, plus more for garnish

kosher salt

3/4

pound

linguine

1/2

cup

chopped flat-leaf Italian parsley, plus more for garnish
Directions
For the puttanesca
Bring a large pot of water to a boil.

While the water comes to a boil, prepare the sauce: Heat the olive oil in a 12-inch skillet over medium heat. Add the garlic and cook until pale golden, about 2 minutes. Remove the garlic and set aside.

Reduce the heat under the skillet to low. Add the anchovies and red pepper flakes and sauté until the anchovies have melted and the red pepper flakes are aromatic, about 1 minute. Add the tomato paste and stir until dissolved. Return the cooked garlic to the pan and stir in the tomatoes. Add the olives, capers, and oregano and allow the sauce to simmer while you cook the pasta.

Add 2 tablespoons of the salt to the pot of boiling water and return to a rolling boil. Add the pasta and cook until al dente according to package directions.

Add the pasta directly to the sauce and toss to coat, adding ¼ cup of pasta water or more (up to 1 cup), as needed to loosen up the sauce. Add the parsley and toss again.

Plate in bowls and garnish with additional oregano and parsley, if desired.