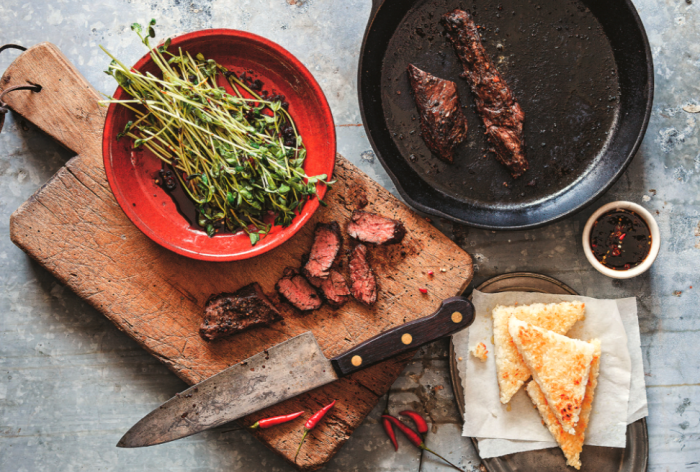 This cookbook was inspired by David Simon's award-winning HBO series, Treme, and no offense to Breaking Bad or anything, but we'd rather cook recipes from this show, thanks. Learn simple homestyle recipes for your favorite New Orleans dishes. No New Orleans cookbook would be complete without a few vibrant (very spicy) Asian dishes, like this fiery peppered hanger steak.
I knew I had to have a steak item on the menu. As much as I would like to think my customers want to travel with me to flavor regions unknown, a lot of them want the protein on their plate to be familiar. You can't write a menu with Guinea hen or wild boar or Patagonian toothfish if you want it to sell. But, if you start off with steak or chicken, the customers will often follow you all over the map. So instead of filet mignon, I went with hanger steak. Instead of potatoes, I went with sushi rice. Instead of spinach, I went with pea shoots. Instead of steak sauce, I created this Asian variation.
If your hanger steak hasn't already been trimmed, be sure to ask your butcher to remove the silver skin that runs down the middle. The rice can be made a couple of days in advance and cut and toasted just before serving.
Ingredients
2

tablespoons

extra virgin olive oil

4

cups

packed pea shoot leaves or spinach leaves

1

teaspoon

Vietnamese chili-garlic sauce

3

tablespoons

chile-sweet soy glaze (see below)

fine sea salt

freshly ground black pepper
Rice cakes
1

cup

sushi rice

1 1/2

cups

water

fine sea salt

3

tablespoons

canola oil
Peppered hanger steak
4

hanger steaks (about 6 ounces each)

3-4

tablespoons

cracked black pepper

kosher salt

2

tablespoons

canola oil
Directions
For the rice cakes:
In a sieve, thoroughly rinse the sushi rice under cold running water until the water runs clear. Place the rinsed rice in a small saucepan with the water and a generous pinch of salt.
Bring the rice to a boil, uncovered, over medium-high heat. Reduce the heat to medium and simmer until most of the water has been absorbed by the rice, about 5 minutes. Cover the pan tightly, reduce the heat to low, and continue cooking for about 7 minutes longer. Remove from the heat and let stand, covered, for 15 minutes.
The rice should be tender and all of the water absorbed. (Even very slightly overcooked rice is not a problem in this recipe, as that may help the rice cakes keep their shape.)
Scoop the rice onto a small baking sheet lined with plastic wrap.
Form the rice into a rough square 3/4 to 1 inch thick.
Cover tightly and refrigerate overnight until cold and set.
When the rice has set, cut 8 equal-size tri­angles of rice cake and set aside until ready to fry and serve.
For the steak:
Preheat the oven to 400°F.
Generously season the hanger steaks with the cracked black pepper and kosher salt. In a cast-iron skillet over very high heat, heat the 2 tablespoons oil until almost smoking. Add the steaks to the pan and sear until nicely browned on both sides, about 3 minutes per side.
Transfer the pan to the oven and bake until steaks are medium-rare, 7 to 10 minutes. Transfer the steaks to a cutting board and let rest for 5 minutes.
While the steaks are cooking and resting, finish the rice cakes. Heat the 3 tablespoons canola oil in a large nonstick sauté pan over medium-high heat. Carefully add the rice cakes to the hot oil. Cook until golden brown and toasty on one side, 3 to 4 minutes.
Flip the rice cakes and continue cooking until golden brown on the other side, another 1 to 2 minutes. Transfer the rice cakes to a plate and cover to keep warm. Set aside, reserving the pan.
Wipe out the pan you used to fry the rice cakes, if necessary, and add the olive oil and pea shoots. Stir in the chili-garlic sauce, the sweet soy glaze and season with sea salt and ground pepper. Sauté the pea shoots until just barely wilted.
For the chile-sweet soy glaze:
In a bowl, stir together 1 tablespoon Vietnamese chili-garlic sauce; 1 red Thai chile, minced, or a pinch of red pepper flakes, 2 tablespoons soy sauce, 1/2 cup ketchup manis (Indonesian sweet soy sauce, available in Asian markets) and 1 teaspoon toasted sesame oil. Store in a tightly sealed jar in the refrigerator for up to 2 weeks.
For serving:
Carve each of the steaks into 5 slices. Place 2 toasted rice cakes in the center of each plate, spoon the sautéed pea shoots over one side of the toasted rice cakes and arrange the sliced beef around. Spoon the sweet soy glaze over and around the steak and serve at once.
Try out these steak recipes on Food Republic: