Penne Pasta With Celery Root Sauce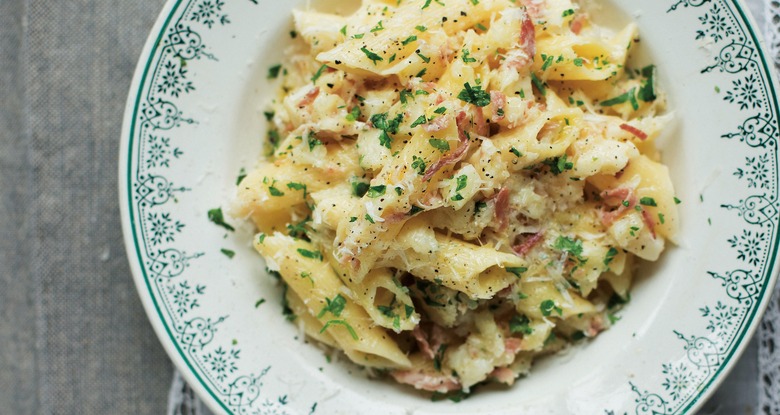 We may receive a commission on purchases made from links.
Your cookbook inventory is not complete without a volume or two from best-selling cookbook author and food writer Nancy Harmon Jenkins. The only thing better? A collection of pasta recipes cowritten with her daughter, Sara Jenkins, chef at NYC's East Village trattoria Porsena. Pick up your pasta pot and ready the extra-virgin olive oil: You know exactly what's for dinner tonight.  
This is a new recipe. I have used celery root, which I like very much, reduced to a pulp to form the basis of the sauce. The addition of ham in small strips (or smoked ham) lifts the sauce and makes it very appetizing, though for a vegetarian version this can simply be omitted.
Penne Pasta With Celery Root Sauce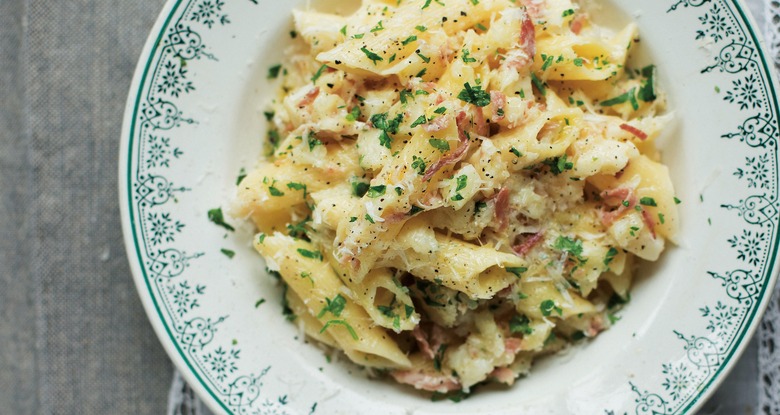 Ingredients
10 1/2 ounces dried large penne, pennoni, with ridges (rigate)
3/4 cup parmesan
2 tablespoons finely chopped fresh flat-leaf parsley
Salt and pepper
4 tablespoons unsalted butter
1 onion
3 1/2 ounces cooked ham
1 1/3 pound celery root
About 3 1/2 tablespoons milk
You could use macaroni, sedani, elbows or rigatoni.
Directions
Melt the butter in a large saucepan and fry the onion for 5 minutes. Add the ham, and warm through. Set aside.
In a separate pan, cook the celery root cubes in boiling salted water until very soft, about 10 minutes. Drain and add to the pan with the buttery onion. Squash it down a bit. Add the milk to make it more liquid, and warm through gently.
Cook the pennoni in plenty of boiling salted water for 8 to 10 minutes or until al dente. Drain and mix with the sauce in the pan. Sprinkle with the Parmesan and parsley, and lots of black pepper.