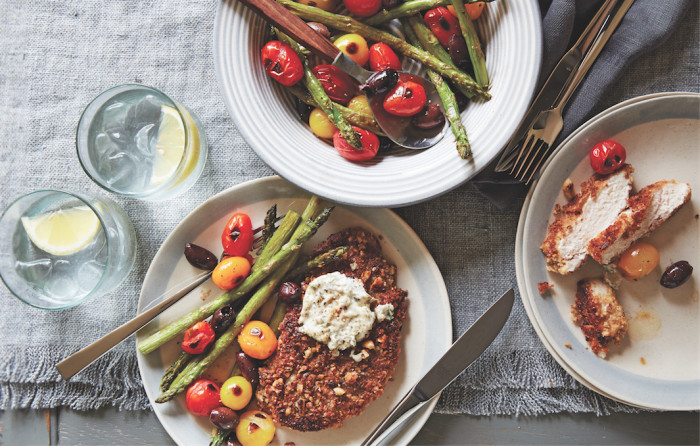 Nashville-based musician and food writer Matt Moore is the quintessential Southern gentleman. His newest cookbook, A Southern Gentleman's Kitchen, is a fresh take on a classic concept. With 150 distinctly Southern recipes from the tried-and-true to the modern, it's a must-have for any gent's (or lady's) culinary library. 
Sometimes I find myself stuck in a rut when it comes to chicken. Grilled, baked, sautéed, roasted — it all starts to taste the same. So I created this meal utilizing some of my favorite ingredients to make an elegant, tasty dish. I use sweet, nutty pecans to create a crispy crust for the juicy, tender chicken breasts. In addition, I use fresh goat cheese amped up with herbs and black pepper to serve as my "finishing" sauce by melting it atop the hot chicken right when it's cooked. Trust me, this goat-cheese technique is to die for. I like to serve this dish atop a bed of roasted tomatoes and asparagus. It goes right into the oven in one pan — simple, clean cooking at its finest. This meal pairs well with crisp, mineral-y white wines and light reds.
Gent's tip: If you have some of the goat-cheese mixture left over, spread it on a toasted bagel the next morning, or fold it into a simple egg omelet. Dinner and breakfast perfection — ain't life grand?
Reprinted with permission from Southern Living: A Southern Gentleman's Kitchen
Ingredients
4

ounces

goat cheese, softened

1

garlic clove, finely minced

1

tablespoon

finely chopped fresh thyme

1

teaspoon

freshly ground black pepper

4 (6-ounce)

chicken breasts

1

cup

chopped pecans

1/2

cup

fine, dry bread crumbs

2 1/4

teaspoons

kosher salt, divided

1

large egg

1

cup

all-purpose flour

1

pound

fresh asparagus

1 1/2

cups

cherry tomatoes

1/2

cup

pitted kalamata olives

3

tablespoons

extra-virgin olive oil, divided
Directions
For the Chicken
Mash first four ingredients together in a small bowl with the back of a fork until the mixture is blended and smooth. Spoon goat-cheese mixture on bottom third of a sheet of plastic wrap. Tightly roll goat-cheese mixture in plastic wrap, forming a log. Twist ends to seal. Chill 1 hour or until firm.

Meanwhile, place chicken breasts between 2 sheets of plastic wrap, and flatten to ¼-inch thickness, using a rolling pin or flat side of a meat mallet. Pulse pecans, bread crumbs, and 2 teaspoons salt in a food processor until finely ground; pour pecan mixture onto a large plate. Whisk together egg and 1 tablespoon water in a bowl until blended. Place flour in a shallow dish. Dredge each chicken breast in flour, dip in egg mixture and dredge in pecan mixture until coated, shaking off excess.

Snap off and discard tough ends of asparagus. Combine asparagus, tomatoes, olives, 1 tablespoon oil, and remaining ¼ teaspoon salt; toss until coated. Spread in a single layer on a baking sheet.

Preheat oven to 425°. Place a cast-iron skillet over medium heat 1 minute or until hot; add 1 tablespoon oil. Cook 2 chicken breasts in hot oil for 4 minutes on each side. Transfer chicken to a baking sheet. Repeat procedure with remaining 1 tablespoon oil and chicken breasts.

Bake chicken and asparagus mixture at the same time at 425°, placing chicken on bottom oven rack and asparagus mixture on top rack, for 10 minutes or until chicken is firm to the touch and at desired degree of doneness. Remove chicken and asparagus mixture from oven; let chicken stand at room temperature. Stir asparagus mixture, and bake 5 more minutes or until tender.

Spoon asparagus mixture onto a large serving platter or individual plates. Top with cooked chicken. Unwrap chilled goat cheese, cut into ¼-inch-thick slices. Place 1 goat cheese slice on each chicken breast. Serve immediately.