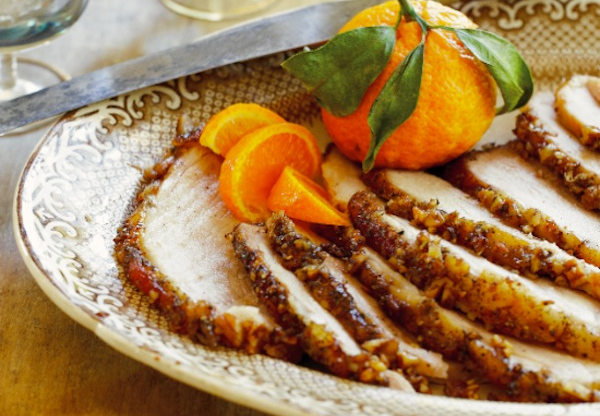 Cured hams retain a rosy color after you cook them. With a fresh, uncured ham like the one here, the meat has a much lighter color after cooking, more like that of pork loin. Fresh hams are usually available in grocery stores around the holidays, but you might have to order them at other times of the year. I like to make this ham before a big holiday, so I can easily feed a crowd for days. I make a meal of it right out of the oven and slice up the rest for later in the week. The butt portion is the rounder side of the ham, with less bone, so it's easier to slice.
Ingredients
1

(10-11 pound)

fresh bone-in ham (butt portion)

1

tablespoon

rubbed sage

3

tablespoons

extra-virgin olive oil

5

cloves

garlic, minced

1

teaspoon

salt

1

teaspoon

freshly ground pepper

1/2

cup

cane syrup

1/4

cup

firmly packed light brown sugar

1/4

cup

bourbon

1

tablespoon

Dijon mustard

3/4

cup

chopped pecans

Satsuma orange wedges, for garnish
Directions
Preheat oven to 325°. Score ham skin and fat, making shallow (1/8-inch-deep) cuts about 1 1/2 inches apart in a diamond pattern.
Combine sage and next 4 ingredients. Rub mixture over ham. Place ham, fat side up, on a lightly greased rack in an aluminum foil-lined roasting pan.
Bake at 325° for 3 hours. Meanwhile, bring cane syrup and next 3 ingredients to a boil in a medium saucepan over medium-high heat; reduce heat to low, and simmer 3 minutes. Add pecans, and simmer, stirring frequently, 3 minutes or until thick and syrupy.
Remove ham from oven. Spread glaze over top of ham. Bake 30 minutes, basting with pan juices every 10 minutes. Shield with foil to prevent excessive browning, and bake 30 more minutes or until a meat thermometer inserted into center of ham registers 145°. Let stand 30 minutes before slicing. Garnish, if desired.
Try out some of our favorite recipes with ham on Food Republic: