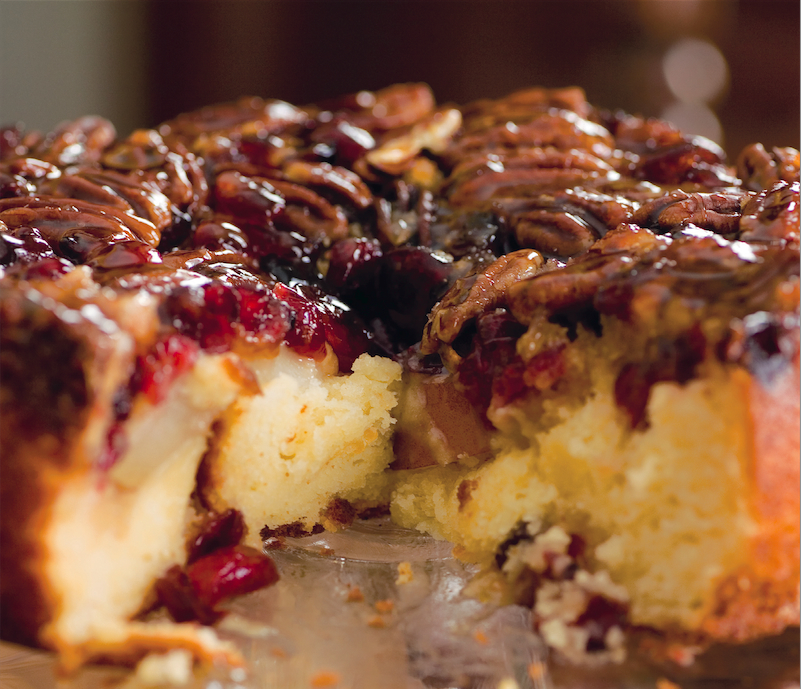 When the temperature starts to drop, reach for award-winning British food writer and cookbook author Diana Henry's new guide to cold weather comfort food. From rib-sticking braises to the best fall fruit desserts, Roast Figs Sugar Snow is the key to staying warm this fall and winter.
If you're looking for a go-to dessert recipe for chilly months, Henry's pecan and pear upside-down cake is simple, delicious and perfectly seasonal.
Ingredients
1/3

cup

butter

1/2

cup

superfine sugar

2

pounds

of pears (about 6)

1 1/2

cups

cranberries

3/4

cups

pecans, shelled
Cake
1/2

cup (1 stick)

butter

1

cup

superfine sugar

2

large

eggs, separated

drop of

vanilla extract

2

cups

all purpose flour

2

teaspoons

baking powder

3/4

cup

milk
Directions
Preheat the oven to 350°F.
Melt the butter and sugar in a heavy skillet, about 10 to 12 inches in diameter, over low heat.
Peel and core the pears and cut them into slices about 1/2 inch thick, and place them on top of the butter and sugar.
Cook these over low heat until just tender, then turn the heat up and cook them until lightly caramelized.
Scatter the cranberries and pecans on top and gently mix all the fruit around.
For the cake, cream the butter and sugar in a stand mixer and add the egg yolks and a drop of vanilla.
Mix in half the flour along with the baking powder.
Add the milk and then the other half of the flour. Mix until smooth.
Beat the egg whites until they form medium peaks. Working quickly, fold into the cake mix with a large spoon.
Spread the batter over the pears and bake in the preheated oven for 35 to 40 minutes, or until a skewer inserted into the cake comes out clean.
Let the cake cool for 10 minutes before turning it out—but no longer, or the caramelized fruit will stick to the pan. If this does happen, carefully lever the pears off the pan and lay them on to the cake with their dark, caramelized side upward.
Find more cakes on Food Republic: