Peanut Butter Dark Chocolate Thumbprint Cookies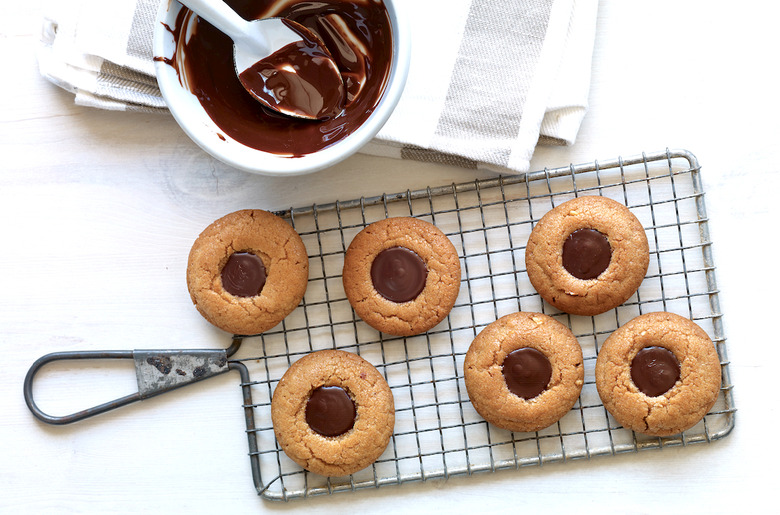 We may receive a commission on purchases made from links.
San Francisco–based Guittard is the gold standard of chocolate, which is why chefs ask for it by name. The company's new cookbook is a collection of five generations' worth of recipes for everyone's favorite chocolate desserts. When it comes to baking, especially for something simple, like these rich, creamy dark chocolate and peanut butter cookies, the best ingredients make all the difference. 
What makes the peanut butter–chocolate combination so irresistible? Perhaps it's the blend of sweet and salty. Or maybe it's the play on textures—melted chocolate with softly whipped peanut butter. This thumbprint cookie celebrates everything that's good about the classic PB-DC combination. One bite takes me back to Saturday mornings with the Muppets (yup, my brother and I were allowed to eat cookies for breakfast; lucky ducks, I know). Peanut butter and dark chocolate: always a win, any time of day.
Peanut Butter Dark Chocolate Thumbprint Cookies
Servings
24
1-inch cookies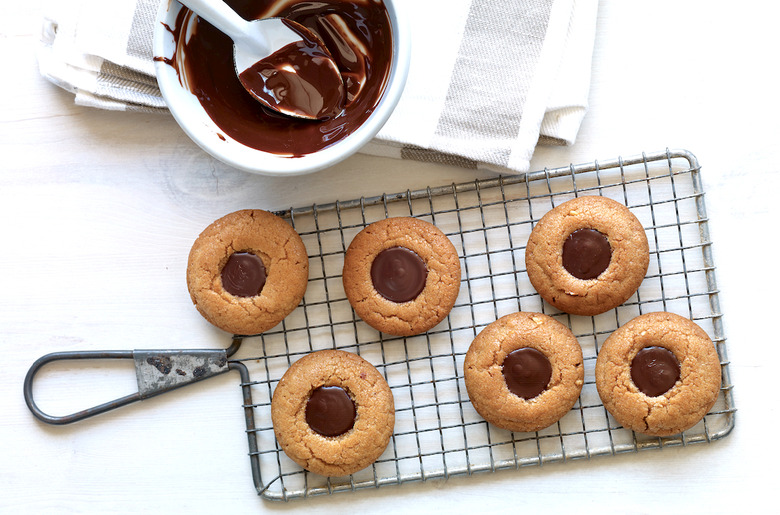 Ingredients
1 1/4 cups all-purpose flour
3/4 teaspoon baking soda
1/2 teaspoon baking powder
1/4 teaspoon salt
1/2 cup unsalted butter, at room temperature
1/2 cup granulated sugar
1/2 cup firmly packed dark brown sugar
1/2 cup crunchy peanut butter
1 large egg
1 teaspoon vanilla extract
2 ounces Guittard Bittersweet Chocolate Baking Bar
2 tablespoon unsalted butter, at room temperature
3/4 teaspoon light corn syrup
Directions
:::cookies:::
Preheat the oven to 350°F. Line two baking sheets with parchment paper.
In a small bowl, combine the flour, baking soda, baking powder and salt. Set aside.
In a large bowl, with a hand mixer, beat together the butter, granulated sugar, and brown sugar until light and fluffy, about 3 minutes. Stir in the peanut butter, egg, and vanilla. Gradually stir in the flour mixture until combined.
Roll pieces of dough into 1‑inch balls and place on the prepared baking sheets about 1 inch apart.
Bake for 10 minutes, then remove from the oven. Using a small spoon, make a small indentation in the middle of each cookie. Return the cookies to the oven for another 6 to 7 minutes, or until set. (After removing from the oven, you may need to use the spoon again to make the indentations clear.) Transfer the cookies to a wire rack to cool completely, 1 to 2 hours.
:::filling:::
Melt the chocolate, butter, and corn syrup together using a hot water bath or the microwave oven (see Note: Melting Chocolate, page 51). Stir until completely melted and smooth. Remove the bowl from the water if you used a hot water bath and set aside to cool slightly, 3 to 5 minutes.
When the cookies are completely cool, use a spoon to fill each indentation with the choco­late filling. Set aside and let the chocolate filling cool and harden, 1 to 2 hours. (If your kitchen is warm, refrigerate the cookies so the filling can harden.) Store in an airtight container at room temperature for up to 1 week.