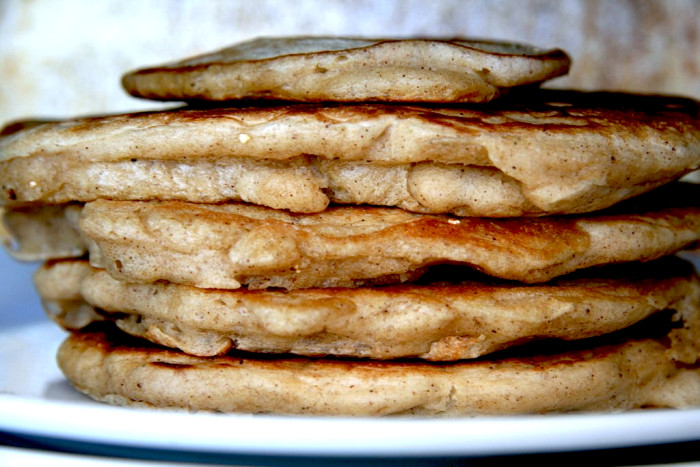 Few things are as simple and satisfying as a fluffy stack of hot pancakes on a weekend morning (even if that morning is really closer to afternoon). Riffing on the peanut butter and jelly sandwich, a pairing riddled with strife and drama that we made up, I developed peanut butter pancakes to be stacked with your choice of jelly or jam in between. I'm partial to raspberry with lots of seeds, but strawberry, apricot and grape will all do the trick.
Using a mix of whole wheat and all-purpose flour gives these pancakes a little more substance and texture. It helps bring out the earthy flavor of the peanut butter and keeps things from getting too dense and sticky.
Use conventional jarred peanut butter in this recipe, as the freshly ground stuff (while tasty) doesn't stand up well to being pancaked.
Ingredients
1

cup

all-purpose flour

1

cup

whole wheat flour

2

level tablespoons

baking powder

1

teaspoon

kosher salt

2

tablespoons

sugar

2

eggs

1

cup

milk, plus extra for thinning batter

1

cup

creamy peanut butter, melted briefly in the microwave

3

tablespoons

vegetable oil

butter, for coating pan

jelly, for serving
Directions
Thoroughly combine the flours, baking powder, salt, and sugar in a large mixing bowl.
Whisk the egg, milk, melted peanut butter, and vegetable oil together in another bowl
Add wet ingredients to dry ingredients. If batter feels too thick, thin with a little extra milk.
Heat a large non-stick pan or griddle over medium-low heat and apply an thin, even layer of butter over it.
Pour 1/4 cup of batter into pan for each pancake, making sure to not to overcrowd the pan. Cook for about 3 minutes per side or until golden. They won't bubble like regular pancakes due to the peanut butter.
Stack pancakes with a layer of jelly in between and serve warm.