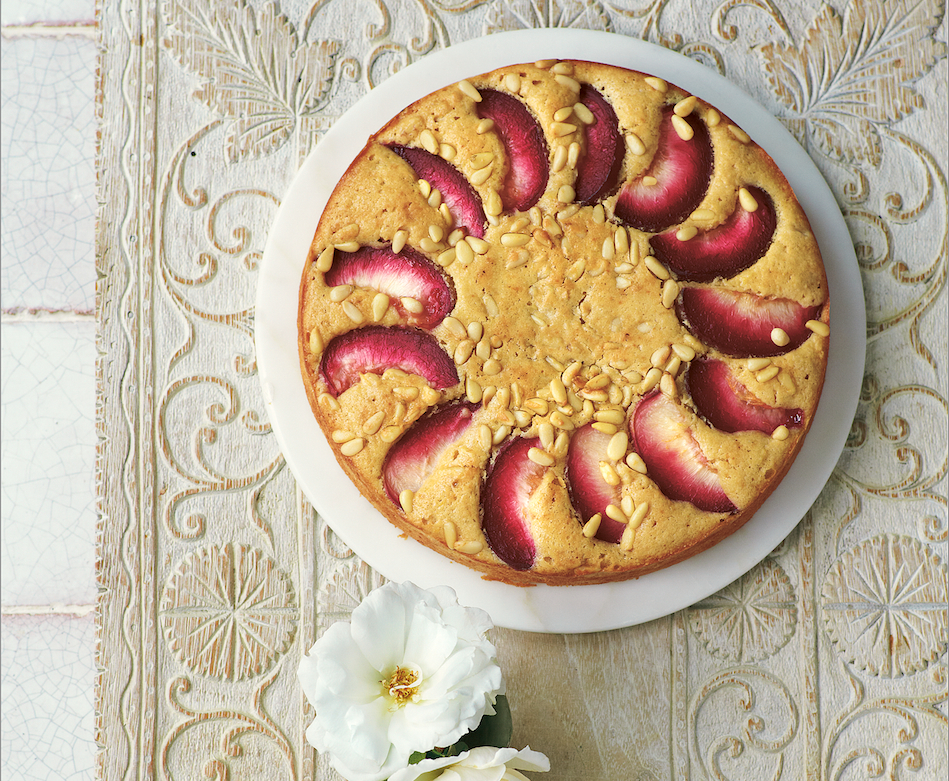 Food stylist Amber Rose, called "Britain's most glamorous baker" has every dessert-worthy occasion covered with her new book, Love Bake Nourish. Experiment with heritage flours, seasonal fruits and the lighter side of sweet fare with Rose's expertly tested recipes. This peach and pine nut cake is as simple to make as it is easy to eat. Maybe too easy. 
When I was young, we grew many varieties of peaches at home, and I would climb up the trees and steal them just before they were ripe, which got me into such trouble (quite right, too)—much to my dismay. A great peach has the ability to stop me in my tracks as I get lost in the juicy, sweet flesh. It is definitely one of my favorite fruits, especially when it has been freshly picked, warm and sweet from the sun.
Ingredients
12

tablespoons

unsalted butter, softened

1 1/2

cups

white spelt flour, sifted

3

large

free range eggs

1

teaspoon

baking powder

1/2

cup

maple syrup

1/3

cup

Greek-style yogurt

2

tablespoons

unwaxed lemon zest, finely grated

1/2

cup

pine nuts

3

peaches, halved, pitted and sliced
Directions
Preheat the oven to 325°F.
Grease and line a 10-inch loose-bottomed cake pan.
In a large mixing bowl, cream the butter until pale and fluffy with an electric mixer.
Add 2-3 tablespoons of the flour and beat in the eggs, one at a time.
Continue to beat until you have a light, fluffy mixture (if it looks as if it's curdling, add another tablespoon of flour).
Add the remaining flour, the baking powder, maple syrup, yogurt, lemon zest and 1/3 cup of the pine nuts.
Gently fold in until thoroughly combined.
Scrape into the prepared pan, level the top with the back of a spoon or an offset spatula and place the peach slices over the mixture.
Scatter with the remaining pine nuts and bake in the oven for 1 hour or until a skewer inserted into the center of the cake comes out clean.
Remove from the oven and leave to cool in the pan for at least 10 minutes before carefully turning out onto a wire rack to finish cooling. A slice is lovely on its own or with a spoonful of creme fraiche.
More seasonal desserts on Food Republic: