Patty Melt Burger Recipe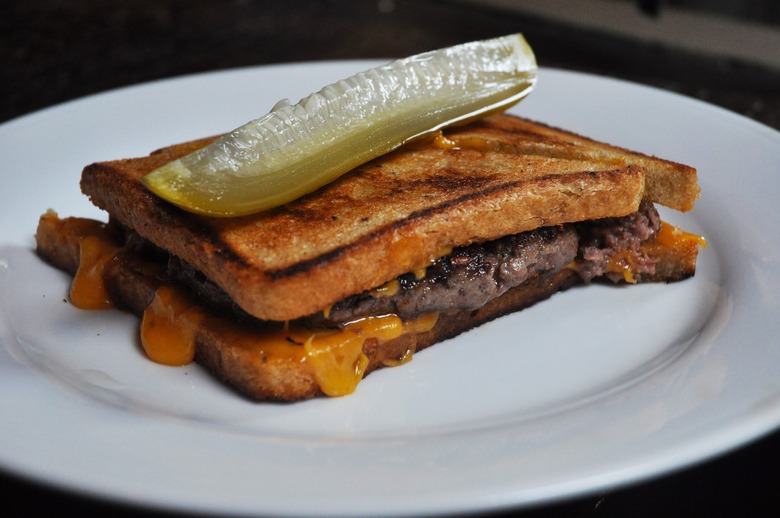 Photo: Courtesy of Bell, Book and Candle
We don't like to shy away from the tough questions or controversial topics here at Food Republic. Which is why we have chosen the patty melt from NYC's Bell, Book and Candle as our second burger of the week.
There are many burger freaks who maintain that a patty melt, with its slices of crispy and griddled rye bread—in place of a bun!—is not technically a burger. That it is really just a grilled cheese with a burger inside. And which burger aficionado can forget the controversy that ensued when Katie Lee (then Katie Lee Joel) won the 2008 NYC Burger Bash with her patty melt, beating out Shake Shack and other, some would say, truer burgers?
It's fine if you're anti-patty melt. That leaves more for us! Especially Bell, Book and Candle chef/owner John Mooney's version of a patty melt with its slightly carmelized onions and oozing melted cheddar cheese, which he serves at the NYC hotspot nightly.
Mooney goes the extra mile and tops his burger—er, patty melt—with a crisp, tangy, pickle made from cucumbers grown on the restaurant's rooftop aeroponic farm(!). But even if you can't take that über-locavore step, he has graciously provided us with the burger recipe for you to make your own melt at home.
Patty Melt Burger Recipe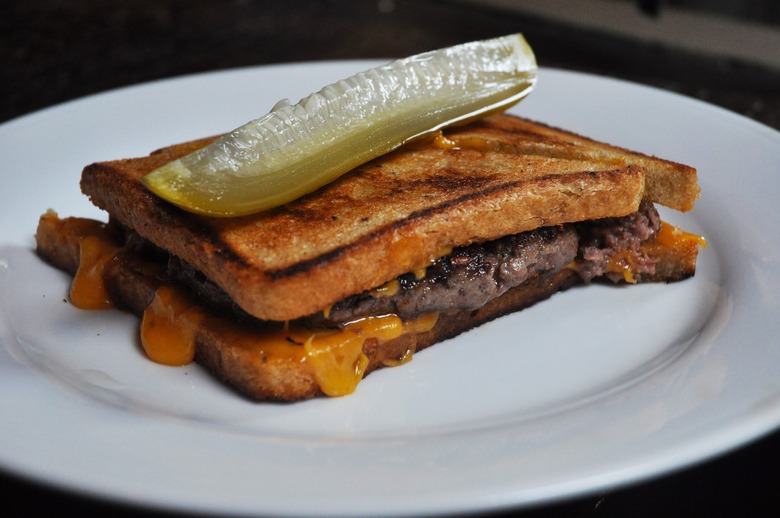 Ingredients
1 1/2 pounds ground beef (80/20)
8 slices cheddar cheese
1 white onion
8 slices rye bread
1 -2 tablespoons Grapeseed oil
Salt and pepper
Directions
Place one slice of cheese on each slice of bread.
Warm the griddle or a large frying pan on medium heat. Season each side of the burger patty with salt and pepper. Begin by placing the burger and onion slices side-by-side on the griddle/pan.  
On the opposite side of the griddle/pan, put a thin layer of oil and place the bread flat with cheese side up. Cook the patties about 3 minutes on each side for medium.
Remove the patty from the griddle and let rest for one minute. 
Place grilled onions on top of one slice of bread, then place the patty on top of the onions. Top off with another piece of bread, cheese side down. Cut in half and serve with a pickle spear (if desired).