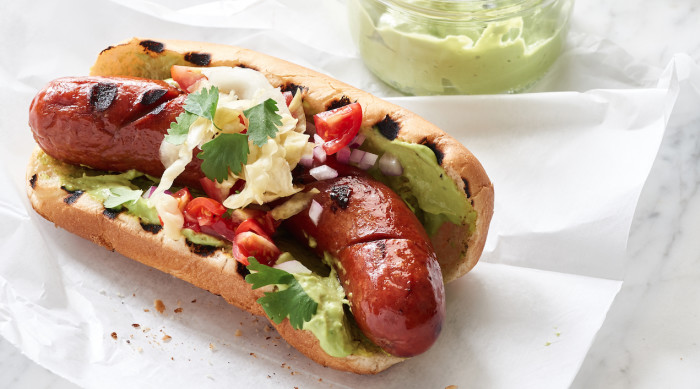 Look no further than the grilling masters at the test kitchens of Weber for innovative ways to use everyone's favorite hot weather cooking device. These Patagonia hot dogs get a creamy dollop of green avocado mayo for a flavor boost that tastes as good as it looks. 
At the southern end of South America, hot dog fanatics in Patagonia, Argentina, revel in a colorful variation that involves sauerkraut, chopped tomatoes, and a creamy avocado mayo. Although it's a combination we probably never would have imagined on our own, it has made it into this collection for a good reason: it tastes great!
Ingredients
Mayo
1

Hass avocado, roughly chopped

1/3

cup

mayonnaise

1/2

jalapeno, seeded and chopped

1

tablespoon

chopped shallot

1

tablespoon

fresh lemon juice

1

garlic clove, minced

1/4

teaspoon

kosher salt

1/4

teaspoon

freshly ground black pepper
8

best-quality all-beef hot dogs with natural casings (slightly longer than the buns)

8

hot dog buns, split

1

jar or bag

sauerkraut, drained

1

pound

tomatoes, cored, seeded and chopped

1/4

cup

roughly chopped fresh cilantro leaves

1/4

cup

finely chopped red onion
Directions
For the hot dogs
In a food processor combine all the mayo ingredients and puree until smooth. Cover and refrigerate until needed.

Prepare the grill for direct cooking over medium heat (350° to 450°F). Cut a few well-spaced diagonal shallow slashes crosswise along one side of each hot dog.

Brush the cooking grates clean. Grill over direct medium heat, with the lid closed, until lightly marked on the outside and hot all the way to the center, 4 to 5 minutes, turning occasionally. During the last 30 seconds to 1 minute of grilling time, toast the buns, cut side down, over direct heat. Remove from the grill.

Generously spread the avocado mayo inside each bun. (You will not need all of it, but the unused amount will keep in a covered bowl in the refrigerator for up to 2 days.) Place a hot dog in each bun and add some sauerkraut, tomatoes, cilantro, and onion. Serve warm.