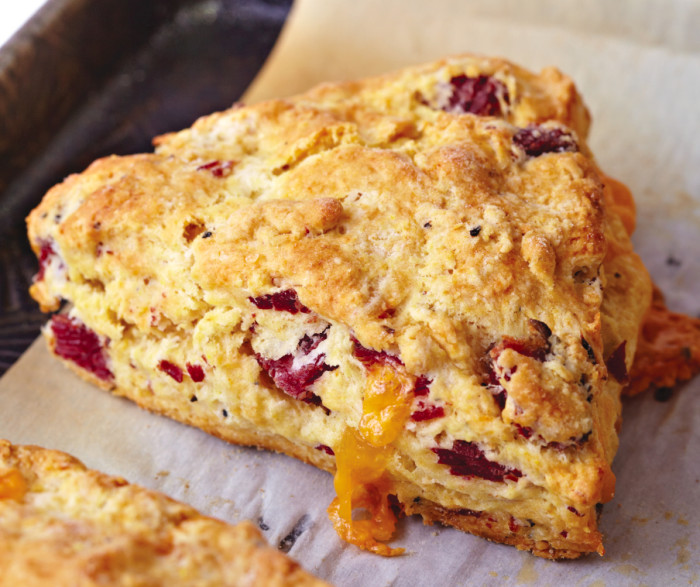 If you've ever loved a pastrami on rye with cole slaw and pickles after a bowl of matzo ball soup and before a slice of chocolate babka, you've come to the right place. Food writer Michael Zusman and Nick Zukin, co-owner of Portland deli Kenny and Zuke's, teamed up to publish this collection of the classic homestyle Jewish deli food you crave. First up, pastrami and cheddar scones via Brooklyn's famed Montreal-style Mile End Deli.
These amazingly moist and full-flavored scones come to us from Mile End Deli, where they use Montreal smoked meat instead of pastrami, relying on the recipe devised by Mile End co-founder (and resident sardonic wit) Noah Bernamoff. At Mile End, they are always looking for ways to use the non-sandwich-worthy shards of smoked meat that flake off during carving, according to Mile End's co-founder and Noah's wife Rae Bernamoff. One use is Mile End's version of poutine, the Canadian one-course-weight-gain plan made with French fries, cheese curds, gravy and bits of meat. These scones are a less outrageous, French fry and gravy-free, play on poutine that can be eaten out of hand.
Reprinted with permission from The Artisan Jewish Deli At Home
Ingredients
3

cups

unbleached all-purpose flour, plus more for dusting

6 1/2

tablespoons

cold unsalted butter, cubed

3

tablespoons

cornmeal

2

teaspoons

kosher salt

1 1/2

teaspoons

baking powder

1

teaspoon

baking soda

1/4

teaspoon

smoked paprika

1/8

teaspoon

freshly ground black pepper

1 1/2

cups

diced pastrami

1

cup

cold diced sharp cheddar cheese (about 4 ounces)

1

cup

cold buttermilk

1/2

cup

cold heavy cream
Directions
Position one rack in the upper third and another rack in the lower third of the oven and preheat it to 375°F. Line two baking sheets with silicone baking mats or parchment paper.
Place the flour and butter in the bowl of a food processor. Process until the butter is incorporated into the flour in small pieces, with the largest about pea-size and the smallest like grains of rice. Transfer the mixture to a large mixing bowl and stir in the cornmeal, salt, baking powder, baking soda, paprika and black pepper. Stir in the pastrami and cheese. Add the buttermilk and cream and gently combine the mixture with a large rubber spatula or wooden spoon until it forms a moist dough.
Transfer the dough to a well-floured work surface. Dust your hands and the top of the dough with flour and form the dough into a large ball. Divide the ball of dough in half and shape each half into a large disk about 1 inch thick. Cut each disk into 6 wedges, as if you were cutting a pie. Arrange the wedges about 2 inches apart on the baking sheets.
Bake until they are golden brown, 17 to 20 minutes, rotating the baking sheets in the oven halfway through the baking time. Transfer the scones to a wire rack to cool. They are best enjoyed the day they are made, though they will keep in a covered container at room temperature for up to 3 days.
Try out these scones recipes on Food Republic: