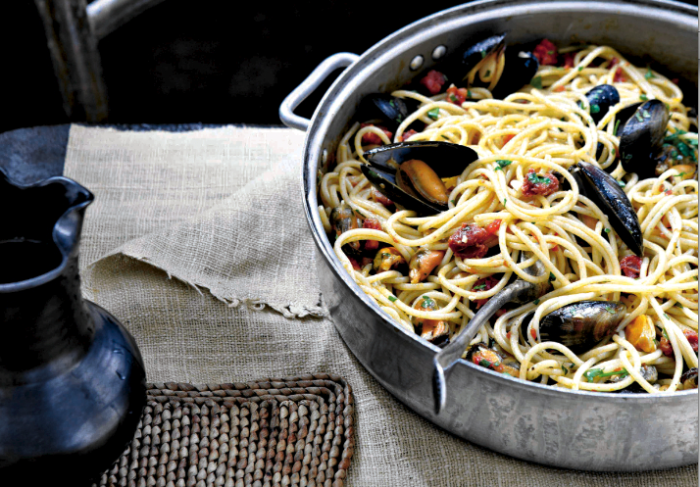 Spanish Flavours is on our list of must-own cookbooks for this spring. London-based chef José Pizarro's volume of regional Spanish dishes, from tapas and peasant dishes to restaurant-worthy composed plates, is our latest obsession.
Pasta is popular in the east of Spain. You might wonder why a Spanish chef is cooking with pasta, but so many Italian chefs are cooking wonderful dishes with chorizo, so why not? I created this dish with my friend Diego in Barcelona. I still remember buying the mussels from La Boqueria, the famous food market in that city, and marrying the flavors with a very nice glass of red wine from Priorat.
Reprinted with permission from José Pizarro's Spanish Flavours
Ingredients
6

tablespoons

extra virgin olive oil

3

garlic cloves, finely chopped

1/2

teaspoon

crushed dried red pepper flakes

14

ounces

skinned and chopped tomatoes, fresh or canned

2 1/4

pounds

fresh mussels

14

ounces

dried spaghetti

6

tablespoons

dry white wine

7

ounces

cooking chorizo sausage, skinned and diced

2

tablespoons

chopped flat-leaf parsley

sea salt and freshly ground black pepper
Directions
Put 4 tablespoons of the olive oil, the garlic and dried red pepper flakes in a large frying pan or saucepan and place it over medium-high heat. As soon as the garlic is sizzling, add the tomatoes, and simmer gently for 15 minutes until well reduced, quite thick, and just starting to stick to the bottom of the pan.
Meanwhile, bring a large pan of salted water to a boil. Wash the mussels, pull out the beards from between the tightly closed shells, and discard any that are open, and won't close when tapped on a work surface. Add the spaghetti to the boiling water, and cook for 10–11 minutes, or until al punto — still with a little bite.
Heat another large pan over high heat, add the mussels and the wine, cover, and cook for 2–3 minutes, shaking the pan occasionally, until all the mussels are only just open. Take care not to overcook them at this stage.
Pour them into a colander placed over a bowl to collect the cooking juices. Stir all but the last tablespoon or two of the cooking liquid into the tomato sauce, and continue to simmer until the sauce has reduced and thickened once more, but is a little more moist than before. Season to taste with salt and pepper. Remove half of the larger mussels from their shells.
Heat the remaining olive oil in a frying pan, add the chorizo and fry gently for 1 minute until lightly golden. Drain the spaghetti, return to the pan, and add the tomato sauce, cooked mussels, chorizo sausage and chopped parsley. Toss well together and serve.
Try out these Spanish recipes on Food Republic: