Pasta Puttanesca Recipe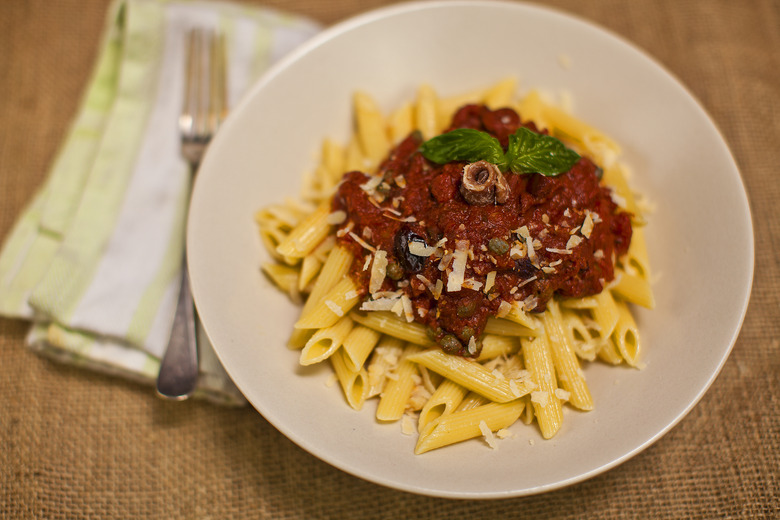 Photo: Mark Shaw
If you don't know the age-old tale of pasta puttanesca (our favorite rendition, at least), gather round. It's said that Italian "streetwalkers" — of yore, of course — invented this dish for three reasons: 1. The busy ladies didn't have time to go shopping and had to cook with basic kitchen staples 2. They weren't allowed in the market anyway, and 3. The seductively salty, spicy and sweet fragrance of the sauce cooking would entice men into their houses. We proudly make this dish in honor of these gals who did us the greatest service of all: Instilling an undying love of anchovies.
This pasta puttanesca recipe uses penne, but it's typically made with linguine as well.
Pasta Puttanesca Recipe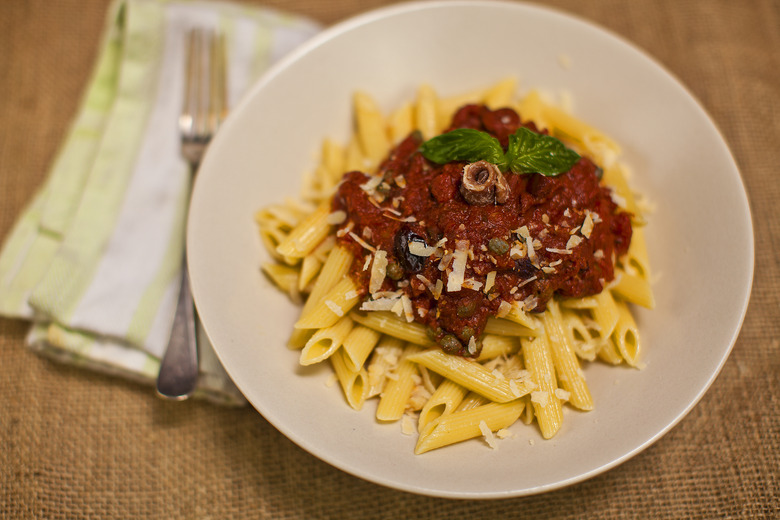 Ingredients
4 tablespoons extra virgin olive oil
1 onion
2 cloves garlic
4 anchovy filets
1/2 teaspoon red chili flakes
2 teaspoons capers
1/2 cup black or kalamata olives
1 large can (14 oz.) diced tomatoes
1/2 teaspoon salt
1 teaspoon sugar
1/2 teaspoon freshly ground black pepper
1 box pasta (we like how sauce clings to penne)
freshly grated Parmesan cheese
Directions
Heat olive oil in a large saucepan over medium heat, then saute the onion and garlic for 5 minutes or until translucent.
Add anchovies and cook for another minute, breaking up the filets with a wooden spoon.
Add the chili flakes, capers, olives, tomatoes with juices, salt, sugar and pepper and bring to a boil.
Reduce heat and simmer for 20 minutes.
Divide pasta into four bowls and top each with sauce and grated Parmesan.