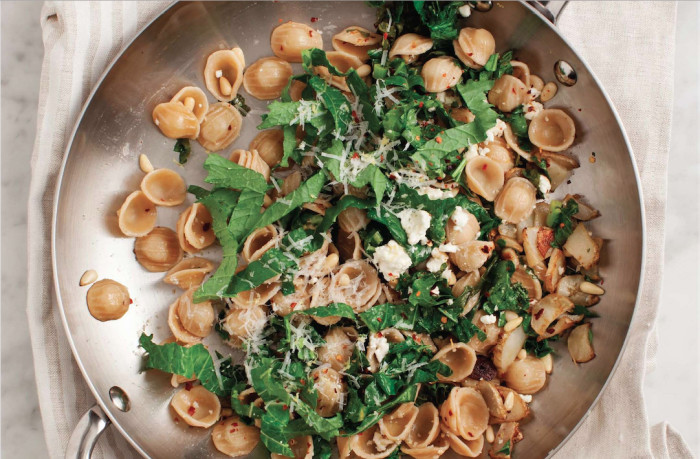 Love and Lemons is one of those award-winning food blogs you hope publishes a cookbook so you can display it in your culinary library instead of hidden away in your browser. Author Jeanine Donofrio has a brand-new collection for what ails your fridge and pantry. The Love and Lemons Cookbook specializes in the utilization of ingredients you didn't think could produce a whole, filling, inexpensive and totally accessible meal. Bunch of arugula that's "now or never"? There's a chapter for that. Looking to lighten up your pasta? Here's a solution that might just make it into your regular repertoire.
Ingredients
2

tablespoons

extra-virgin olive oil, plus extra for drizzling

5

sunchokes, sliced into 1/4-inch slices

1

cup

orecchiette pasta

1

shallot, chopped

1

garlic clove, minced

3

cups

chopped broccoli rabe

2

tablespoons

fresh lemon juice

1

teaspoon

lemon zest

1/4

cup

crumbled feta cheese

1/4

cup

pine nuts

Pinch of red pepper flakes

sea salt and freshly ground black pepper

Grated pecorino cheese (optional)
Directions
For the orecchiette
In a large skillet, heat the olive oil over medium heat. Add the sunchokes and season with salt and pepper. Cook in a thin layer until both sides are browned, about 2 minutes per side. Remove from the skillet and drain on a paper towel.

Meanwhile, bring a large pot of salted water to a boil. Prepare the pasta according to the instructions on the package, cooking until al dente. Drain the pasta.

Wipe any excess oil from the skillet and drizzle enough olive oil to lightly coat the bottom of the pan. Add the shallot and cook until soft, about 2 minutes. Add the garlic, broccoli rabe, and lemon juice. Season with salt and pepper. Toss until the broccoli rabe wilts, about 2 minutes. Add the cooked pasta, sunchokes, lemon zest, feta cheese, pine nuts, red pepper flakes, and a grating of the pecorino cheese, if desired. Taste and adjust the seasonings.