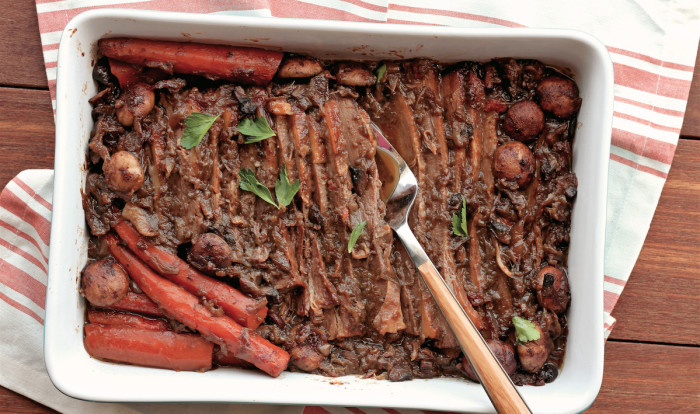 Jewish food isn't famous for being paleo, so let's fix that with The New Yiddish Kitchen, a collection of recipes from…not exactly Bubbe's kitchen. Cooks, writers and bloggers Jennifer Robins and Simone Miller teamed up to remind the world that braised brisket is a caveman's dream.

Three onions may seem like a lot, but when cooked low and slow for several hours, they melt into the braising liquid and create a wonderful gravy.

Bubbe's tip: If nightshades make you meshuga, leave out the tomato paste. You can add some pureed pumpkin or sweet potato instead.
Ingredients
About 1

heaping cup

dried porcini mushrooms

2

cups

boiling water

4-5

pounds

brisket

1

tablespoon

salt

1

teaspoon

pepper

2

tablespoons

tallow, coconut oil, duck fat or preferred fat

2

tablespoons

tomato paste

3

large onions, sliced thin

3-4

large carrots, whole or sliced lengthwise

6

garlic cloves, peeled but left whole

12-15

fresh cremini mushrooms, whole, stemmed
Directions
For the brisket and mushrooms
Preheat the oven to 325°F (163°C).

Place the dried porcini mushrooms in a bowl and pour the boiling water over them. Let them sit for at least 15 minutes, or until you're ready to add them to the brisket.

Pat the brisket dry and season with salt and pepper.

Place a large heavy-bottomed pot over medium-high heat and melt the fat. Add the brisket and sear for 3 minutes on each side. Remove it to a plate and brush with tomato paste on both sides.

Add the onions to the pot and turn the heat to medium-low. Sauté them for 15-20 minutes or until they're golden brown and soft.

Strain the porcini mushrooms, reserving the liquid they were in.

Once the onions are golden brown, add the carrots, then the brisket, followed by the garlic, mushrooms and the liquid from the porcini mushrooms.

Cover tightly and cook for 1 1⁄2 hours. Remove the brisket to a cutting board and slice at an angle against the grain, in 1⁄4-inch (6-millimeter) slices. Return back to the braising liquid, keeping them as close to the original shape of the brisket as possible. Cover and cook for an additional 1 1⁄2 hours, or more if necessary, until it's tender.