Twist Up A Batch Of Passion Fruit Caramels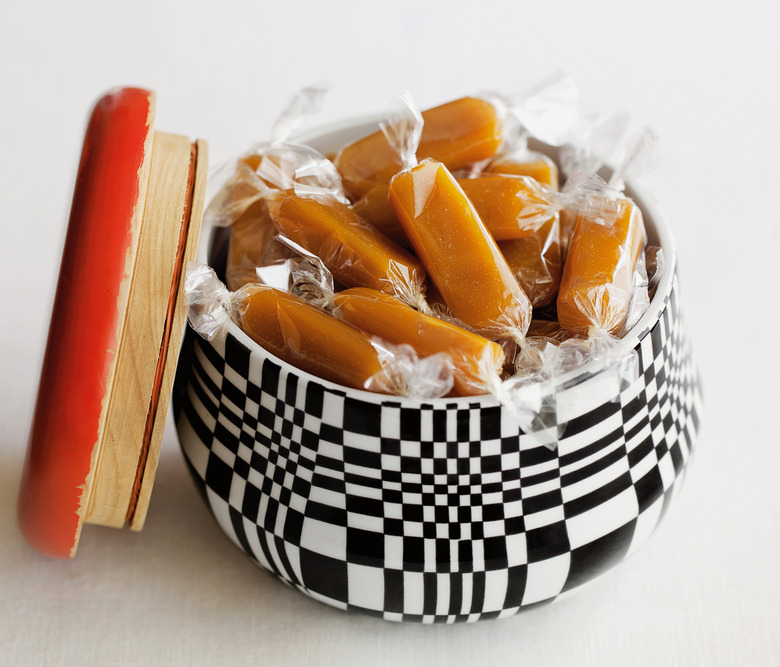 We may receive a commission on purchases made from links.
Some people are simply naturally gifted at the science-meets-art of baking. Others toil through pastry school. Whichever category you fall into, your latest book of advanced projects is The Artful Baker, by Istanbul-based recipe developer and blogger Cenk Sönmezsoy. These infused passion fruit caramels make a beautiful DIY gift you may not want to give away after all!
If I were a passion fruit, I'd aspire to grow up to be a passion fruit caramel. It is the best thing a passion fruit can be — smooth, rich, sweet and tangy. Plus, you get to marry butter, sugar and cream, all at the same time!
These caramels are inspired by the Jacques Genin mango and passion fruit caramels I discovered at A l'Etoile d'Or, but they are different from his in both taste and texture. I prefer my caramels on the chewier side, so that they melt slowly in my mouth and prolong their glorious finish. Even though passion fruit and mango are a perfect couple, I prefer to put the passion fruit in the spotlight, so mango came out of the mix. In my research, I noticed that most caramel recipes used corn syrup to prevent crystallization; I prefer mild honey, which contributes to the flavor without dominating the passion fruit.
When I gifted my two friends, just back from vacationing in Provence, with a small box of these caramels, they looked at each other and, eyes wide, simultaneously blurted out, "These are better!" When I asked, "Better than what, exactly?" they replied, "The ones we ate two nights ago at l'Oustau." L'Oustau de Baumanière has two Michelin stars. Just sayin'.
Storage: The wrapped caramels will keep in an airtight container at room temperature for up to 2 weeks.
Twist Up A Batch Of Passion Fruit Caramels
Recipe developer and blogger Cenk Sönmezsoy's infused passion fruit caramels are a beautiful DIY gift you may not want to give away after all!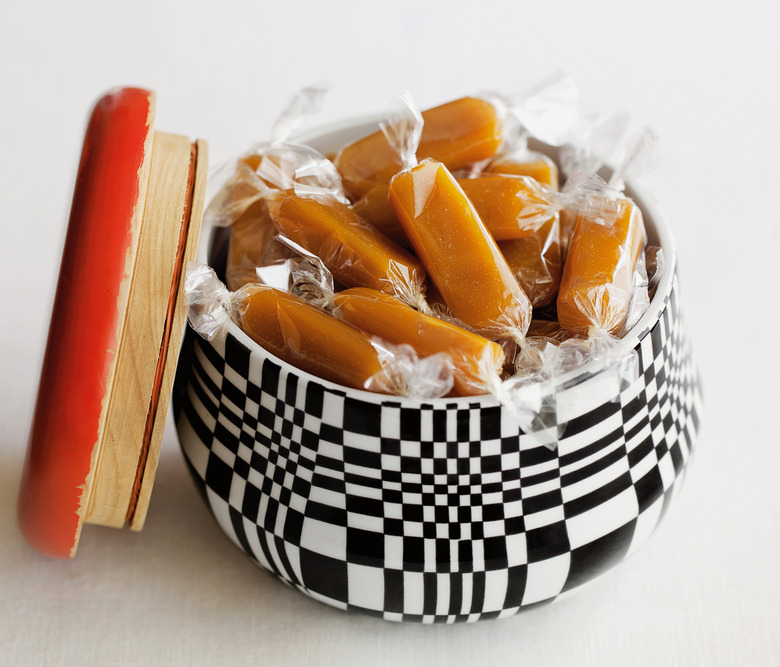 Ingredients
3/4 cup plus 2 tablespoons granulated sugar
3/4 cup plus 1 tablespoon fresh or frozen passion fruit pulp (from about 1.5 pounds passion fruit)
1/3 cup heavy cream
1/4 cup honey
Pinch fine sea salt
2 tablespoons unsalted butter
Directions
Cut a sheet of parchment paper that is long enough to cover the bottom and sides of an 8 1⁄2-by-4 1⁄2-by-2 3⁄4-inch  loaf pan with 2 inches of overhang on each side. Crumple up the parchment and straighten it out half a dozen times to soften it, so that it will fit into the corners without sharp edges. Line the pan with the parchment paper across the bottom and up the sides, pressing creases at the bottom and top edges. Place a mesh strainer over the pan and set a small glass under the handle to steady it.
Combine all the ingredients in a medium heavy-bottomed saucepan. Set the pan over medium-high heat and stir with a silicone spatula until the sugar melts completely. Insert a candy thermometer into the pan and continue cooking, occasionally scraping the bottom of the pan with the spatula to prevent scorching, until the mixture registers 253°F or forms a hard ball that holds its shape but is still malleable when a bit is dropped into cold water (hard-ball stage), 20 to 25 minutes. Watch the temperature closely as it may suddenly shoot up.
Scrape the caramel through the strainer into the prepared pan. Scrape any caramel clinging to the bottom of the strainer into the pan with a clean silicone spatula. Tap the pan against the counter a few times to eliminate bubbles. Let stand undisturbed at room temperature, uncovered, until set, about 6 hours or overnight.
Cut 24 sheets of cellophane or waxed paper, each about 3 by 5 inches.
Carefully lift the caramel from the pan using the parchment overhang, peel away the parchment, and transfer the caramel to a cutting board. Using a large oiled knife, cut the caramel in half lengthwise, then cut each half crosswise into 5⁄8-inch-thick pieces. You will have 24 caramels, each measuring 5⁄8 by 2 inches.
Individually wrap the caramels in cellophane, twisting the ends closed.