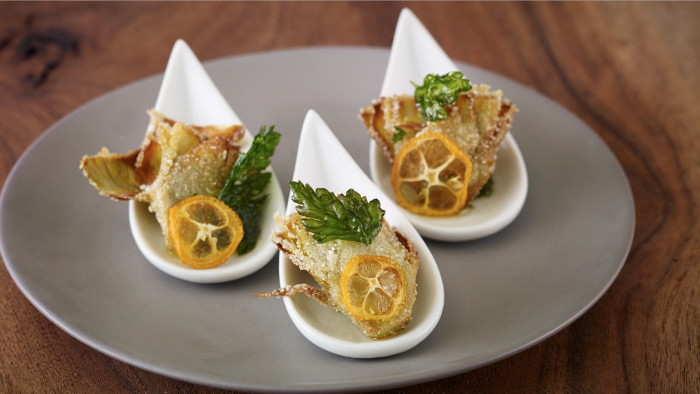 We say it all the time: It's not an awards-show party until the appetizers hit the table. Dig into renowned Oscars caterer Wolfgang Puck's award-worthy fried tender baby artichokes with a zesty-sweet citrus twist, and it's not hard to see why he's chef to the stars. 
California cuisine, which combines the Golden State's abundance of year-round fresh produce with the cooking styles of the Mediterranean, has long been a signature of my flagship restaurant, Spago. It is certainly among the specialties those attending the Governors Ball after the Oscars have come to expect. That is why this particular appetizer is so appealing and popular. It features artichokes, the U.S. supply of which is mostly grown here in California, which we cook in a traditional style found in Provence and then serve with the classic Italian condiment gremolata, a mixture of garlic, parsley and citrus zests that is most often used as a garnish for the Milanese dish of braised veal shanks known as osso buco.
Ingredients
Fried artichokes
juice of 1 lemon

12

baby artichokes

1/3

cup

extra-virgin olive oil

3

garlic cloves, peeled and crushed

1

white onion, thinly sliced

1

bulb

fennel, trimmed and thinly sliced

2

carrots, peeled and cut diagonally into 1/4-inch-thick slices

1

stalk

celery, trimmed and cut diagonally into 1/4-inch thick slices

kosher salt

freshly ground black pepper

1

cup

dry white wine

2 1/2

cups

chicken broth, vegetable broth, or water

canola oil, for deep frying

rice flour, for dusting
Citrus-chili gremolata
1/2

cup

minced fresh Italian parsley

3

tablespoons

extra-virgin olive oil

1

tablespoon

chili oil

2

teaspoons

minced garlic

1

teaspoon

grated orange zest

1

teaspoon

grated lemon zest

1/8

teaspoon

kosher salt

Pinch freshly ground black pepper
Directions
For the artichokes
First, prepare the artichokes: Fill a large bowl with cold water and add the lemon juice. With a small, sharp knife, carefully pare off the dark-green outer leaves from an artichoke and peel the stems to remove its fibrous outermost layer. With kitchen shears, cut off the spiny tops of the leaves. With the knife, cut the artichoke lengthwise in half. Immediately add it to the bowl of lemon water, which will prevent it from oxidizing and darkening in color. Repeat with the remaining artichokes.

In a large pot, warm the olive oil over medium-low heat. Add the garlic, onion, fennel, carrots, and celery. Season lightly with salt and pepper. Gently cook the vegetables, stirring frequently, until the onions turn translucent but not yet brown, about 10 minutes. Add the wine, bring it to a boil, and cook until it has reduced by about three-quarters its volume, 7 to 10 minutes.

Drain the artichokes and add them to the pot. Pour the broth or water over them. Bring to a boil, then reduce the heat to low, cover, and simmer until artichokes are tender enough to be pierced easily with the tip of a small, sharp knife, about 25 minutes. Taste the cooking liquid and adjust its seasonings with a little more salt and pepper, if necessary. Place the bottom of the pot inside a larger bowl filled with ice cubes and water, and stir the artichokes and cooking liquid occasionally until this ice bath has cooled them down.

When the artichokes have cooled, drain them well. Spread a double layer of paper towels on a baking tray and arrange the artichokes cut side down to absorb any excess liquid. Then discard the towels, turn the artichokes cut sides up, and leave them uncovered on the tray in the refrigerator to dry overnight.

A short while before cooking and serving the artichokes, prepare the citrus-chili gremolata: In a small bowl, combine the parsley, olive oil, chili oil, garlic, orange and lemon zests, salt, and pepper. Stir thoroughly. Set aside.

To cook the artichokes, heat several inches of canola oil to 350°F in a deep, heavy pot, using a deep-frying thermometer to monitor the temperature, or in a thermostat-controlled countertop electric deep-fryer. When the oil is hot, working in batches to avoid overcrowding that would lower the oil temperature too much, put some rice flour in a bowl and toss the artichokes in the rice flour to coat them lightly, shaking off excess flour. Then deep-fry the artichokes until they become crispy and golden brown, about 2 minutes per batch. Use a wire skimmer, slotted spoon, or the deep-fryer basket to remove the artichokes, transferring them to a tray covered with several layers of paper towels to drain. Season them lightly with salt.

Repeat with the remaining batches.

Serve the artichokes while still hot, passing the gremolata for dipping.