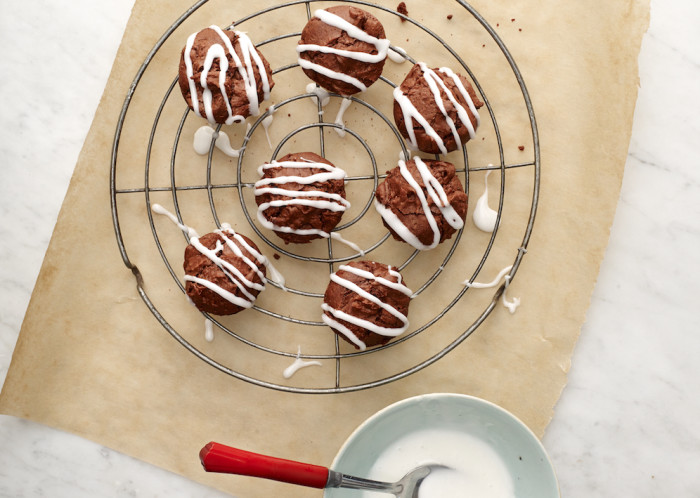 Brownie batter is so much more than the sum of its parts. Join Brownie Brittle founder Sheila G. Mains in discovering the limitless potential of brownie creativity with her new cookbook, Butter & Chocolate. You just might find your favorite new must-bake dessert, like these glazed brownie bonbons. 
Did you ever hear someone say: "I don't spend my days lounging on the couch eating bonbons"? The implication is that only those with time on their hands can enjoy such a rich indulgence. Well, this recipe dispels that myth. First, my glazed brownie bonbons are simple to make. Second, the ingredients are staples in every baker's pantry. Third, you can whip up a batch in half an hour.
So what exactly is a bonbon? The term comes from a childlike repetition of "bon," the French word for "good," and refers to a confection coated in chocolate with fruit or nuts in the center. My bonbons have a brownie core coated with a sugar and vanilla glaze, which may cause kids and adults alike to rename them "yum-yums."
Reprinted with permission from Sheila G's Butter & Chocolate
Ingredients
Brownie Bonbons
2

cups

semisweet chocolate chips

6

tablespoons

unsalted butter

2

large eggs

1

teaspoon

pure vanilla extract

1/2

cup

granulated sugar

3/4

cup

all-purpose flour

1/2

teaspoon

baking powder

1/4

teaspoon

salt

1

tablespoon

100 percent baking cocoa
Vanilla Glaze
1 1/2

cups

confectioners' sugar

3 to 4

tablespoons

milk

1

teaspoon

pure vanilla extract
Materials
Small scoop, pan with orb-shaped recesses
Directions
For the bonbons
Preheat the oven to 350°F. Grease a pan with orb-shaped recesses (each section resembles a half globe) and set aside.

Prepare the brownie bonbons: Microwave the chocolate chips and butter in microwave-safe bowl on high for 30 seconds; remove and stir. Return to the microwave if not thoroughly melted, and microwave in 15-second intervals until smooth and creamy. (Do not overheat or the chocolate will scorch.)

Mix together the eggs, vanilla, and sugar in a separate bowl. Stir the egg mixture into the melted chocolate mixture. Add the flour, baking powder, salt, and cocoa, and mix thoroughly.

Use a small scoop to measure a portion of the batter into each orb-shaped recess of the pan. Bake for 10 minutes, until centers rise and fall and edges begin to crisp. Prepare additional bonbons using the remainder of the bonbon batter, if necessary. Allow to cool.

Prepare the vanilla glaze: Mix together the confectioners' sugar, milk, and vanilla until smooth and creamy.

Drizzle the glaze over the bonbons and allow to set for 10 to 15 minutes before serving.