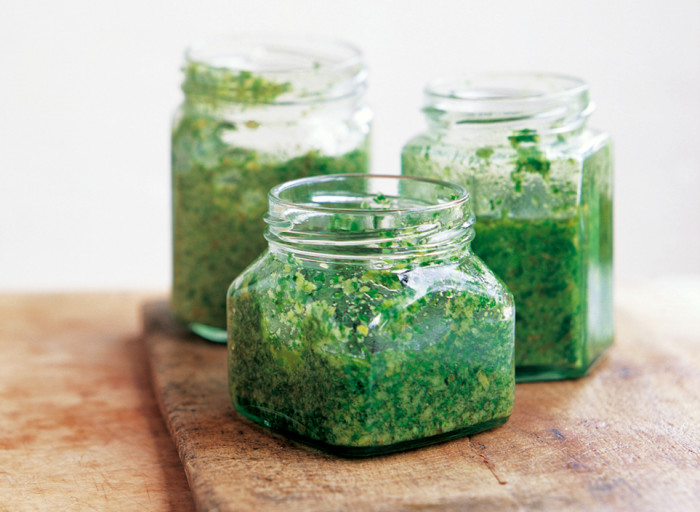 Italy has 20 regions, each home to a unique and delicious cuisine. Culinary instructor and cookbook author Katie Caldesi's book, The Italian Cookery Course, is a compilation of 400 of Italy's best recipes from simple to very complex. Did someone say simple? Beause this parsley-lemon pesto takes no time to make and will serve us well through the summer and beyond.
This parsley and lemon pesto is a zingy, zesty summer sauce that can be enjoyed in many ways. Serve over hot or cold pasta with some cherry tomatoes, simply cooked fish or seafood salad. Black pepper is rarely used in Liguria, the home of pesto, but a twist gives a little extra bite.
Ingredients
1/2

bunch

parsley, either flat-leaf or curly

1/2

garlic clove, peeled

1/5

cup

stale bread crumbs

1 2/3

tablespoons

lemon juice

2/3

cup

olive oil

1

level teaspoon

finely grated lemon zest

a pinch of

salt

black pepper (optional)
Directions
If you have a food processor, simply put all the ingredients in it and whizz until a paste has formed. Alternatively, finely chop the parsley and garlic and mix in a bowl with the rest of the ingredients. Adjust the seasoning as necessary.
Use immediately or, to store, pour into a sterile jar and top with a little olive oil to seal. This way it will keep for up to 3 weeks in the fridge.
More pesto recipes on Food Republic: