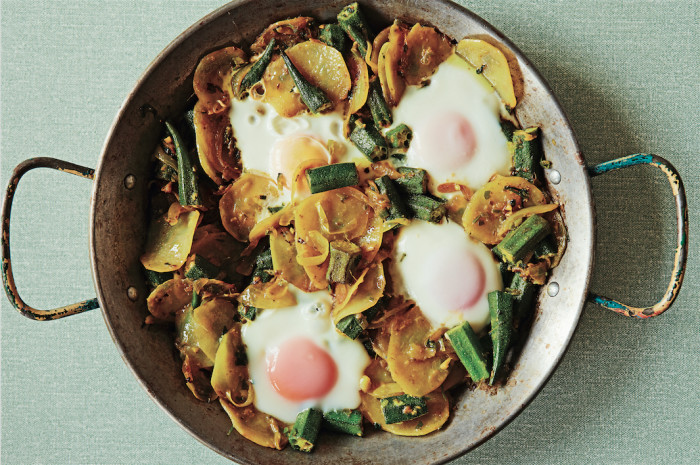 Chef Cyrus Todiwala is a master of Indian fusion cuisine. Using only 10 choice spices from India's vast bounty of spices, he's created a vibrant new recipe collection for home cooks featuring classic and modern spins on favorite South Asian dishes. 

Eggs are the bedrock of Parsee cuisine, and I believe that no other culture in the world reveres them as much as we do. Even celebratory meals tend to begin with an egg-based dish. It would therefore be impossible for me to write a book that doesn't feature them, so here is a recipe, albeit one that many of my fellow Parsees might do slightly differently.

Serve with chutney and crusty rolls, a French stick or chapattis. In India we have the most gorgeous breads, and I would serve this dish with ladi pao, a pan-baked bread that looks like small batch loaves.
Ingredients
2 to 3

tablespoons

extra-virgin canola oil or half oil/half butter (I like to add a good walnut-sized lump of butter once the cumin has taken on some color)

1

teaspoon

cumin seeds

1

finger-type fresh green chili, finely chopped

1

2-inch piece

fresh ginger root, peeled and finely chopped

2

cloves

garlic, minced

1

onion, thinly sliced

1/2

teaspoon

ground turmeric

2

potatoes, cut into 1/8-inch slices, preferably using a mandoline

8 to 10

okra pods, washed, thoroughly dried and sliced into 1/2-inch lengths

1

scallion, finely chopped, white and green parts alike

1

heaped tablespoon

finely chopped fresh cilantro, or to taste

4

eggs

salt
Directions
For the dish
Heat the oil in a skillet large enough to hold 4 eggs. When hot, add the cumin seeds and let sizzle on medium heat until they change color (watch closely for this). Then add the butter, if using.

Add the green chili, ginger, and garlic and sauté for 1 to 2 minutes, until the garlic becomes pale but does not color. Add the onion and sauté for 1 to 2 minutes more, until translucent, then add the turmeric, stirring over low heat for another minute or so.

Now add the potato slices and sauté for at least 3 to 4 minutes. Add the okra and a sprinkling of salt and stir together. Pour in a dash of water, cover the pan, and cook over low heat until the potatoes are just tender, not falling apart (about 4 minutes).

Gently stir in the scallion and cilantro, then adjust the seasoning as necessary. Scrape down the sides of the pan.

Using the tapered end of an egg, make 4 four dents in the mixture, spacing them well apart and about 1½ inches from the sides of the pan. Break an egg into each dent, taking care to get the yolk in the middle of it. Cover the pan and cook over very low heat so that the potatoes don't burn but the eggs poach in the steam. When done to your liking, cut the potato base into 4 segments, each one including an egg, and serve immediately.

If you prefer, the eggs can be cooked for 12 to 15 minutes on the middle rack of an oven preheated to 250ºF. Keep checking until the yolks are cooked just right.