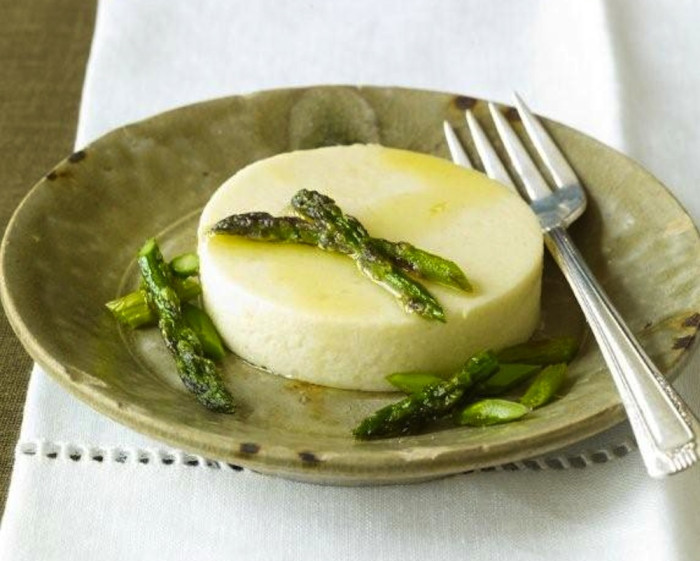 I love the silky creaminess of a flan, so pleasing on the tongue. For years I experimented with savory versions to be served as a side. This was my first success, a cheesy, custard-like dish that parfectly partners with any grilled or poached fish. It's also very easy to do.
Check out our recipe for bechamel sauce and make a large batch beforehand, you'll need it!
Ingredients
1

cup

Parmesan cheese, grated

1/8

tsp

cayenne pepper

2

cups

dairy bechamel, made with 1 1/4 cups milk and 3/4 cup heavy cream, warm

1

pinch

kosher salt

1

pinch

white pepper

2

large

eggs, plus 2 yolks
Directions
Preheat the oven 350 degrees F. Spray an 8 x 12-inch baking dish with nonstick cooking spray, or butter it.
Add the parmesan and cayenne to the bechamel and blend. Adjust the salt, if necessary, and season with pepper.
In a medium bowl, beat the eggs and yolks until well combined. Gradually add the bechamel mixture. Pour the mixture into the prepared baking dish, cover tightly with foil and transfer to a roasting pan.
Add enough boiling water to come halfway up the side of the pan. Place in the oven and bake until the flan is just set (the mixture will jiggle slightly when moved), 50 to 60 minutes. Check after 45 minutes.
Let the flan rest for 15 minutes, cut and serve.