Pao De Queijo Recipe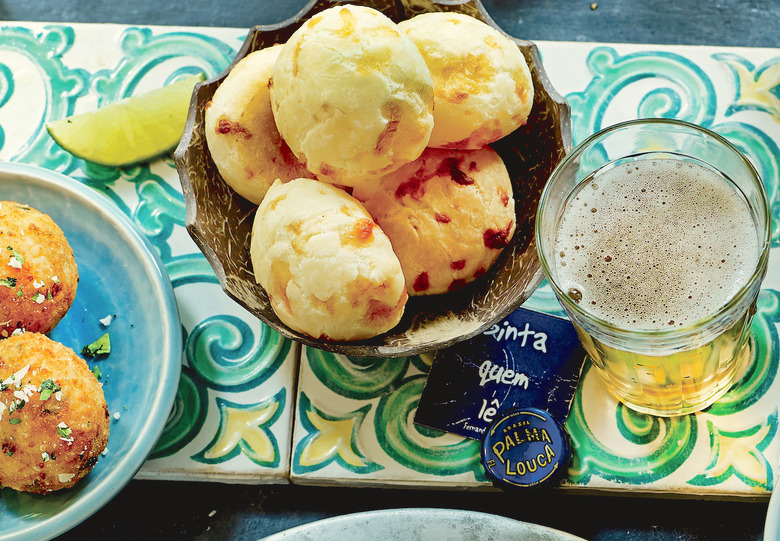 We may receive a commission on purchases made from links.
We're gearing up for the World Cup with classic recipes from Brazilian Barbecue & Beyond, by the restaurateurs behind London's Cabana restaurants. Ready for the greatest little cheese bun you've ever had the pleasure of eating? Brazilian cassava or tapioca pão de queijo are about as good as it gets. Once you master the technique, you'll bust these out every chance you get.
Crispy puffs of dough with a mild, cheesy flavor, pão de queijo are eaten for breakfast or as a snack all over Brazil. The secret to this addictive treat is the use of cassava flour (polvilho azedo), which gives the balls an irresistibly moist, chewy texture. The best ones we've ever tasted were from a tiny hole-in-the-wall bakery in São Paulo, and we like to think this recipe comes pretty close.
Pao De Queijo Recipe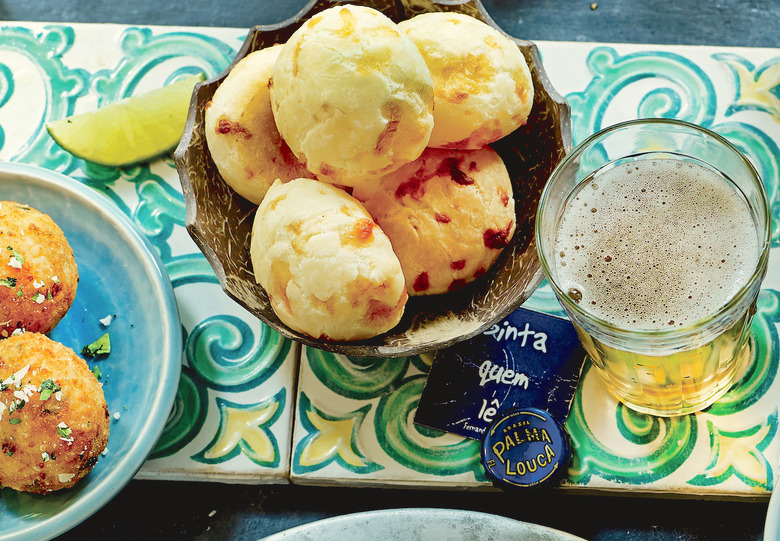 Ingredients
1/2 cup whole milk
scant 1/4 cup vegetable oil
1 teaspoon sea salt
2 cups cassava flour (or substitute tapioca flour)
2 eggs
1 3/4 cups Parmesan or sharp cheddar cheese
Directions
Put 1/2 cup water, the milk, vegetable oil and salt in a large pan and bring to a boil.
As soon as it rises up the sides of the pan, remove it from the heat.
Quickly tip in the flour and stir vigorously to combine. Keep stirring until the mixture comes together as a wet dough and comes away from the side of the pan.
Transfer to the bowl of a stand mixer and let cool slightly.
Once slightly cooled, add the eggs and start mixing at a low speed.
After 1 to 2 minutes, increase the speed to high and beat vigorously until all the egg has been incorporated and the dough is smooth.
Add the Parmesan or cheddar and keep beating until the cheese is evenly mixed in.
Line a baking sheet with silicone liner or baking parchment.
With damp or lightly oiled hands, roll tablespoons of the dough into small balls, about 1 ounce each.
You may need to wash your hands occasionally, as the dough is quite sticky. (If you have one, use a small ice-cream scoop to make this easier. Dip the scoop briefly in water, then flick away any excess water before scooping each ball).
Arrange the balls 1 inch apart on the prepared baking sheet. (You can prepare them a few hours ahead and put the tray in the refrigerator until you're ready to bake.)
Preheat the oven to 400°F.
Bake for 20 to 25 minutes, until puffed up and evenly golden brown. They should have a crisp exterior and a doughy, chewy center. Serve immediately.
Crispy Tapioca Cheese Fritters Recipe
Brazilian Crab And Black-Eyed Pea Acarajé Recipe
Pineapple Manchego Skewers Recipe