Crunch Into These Crispy Panko Pork Cutlets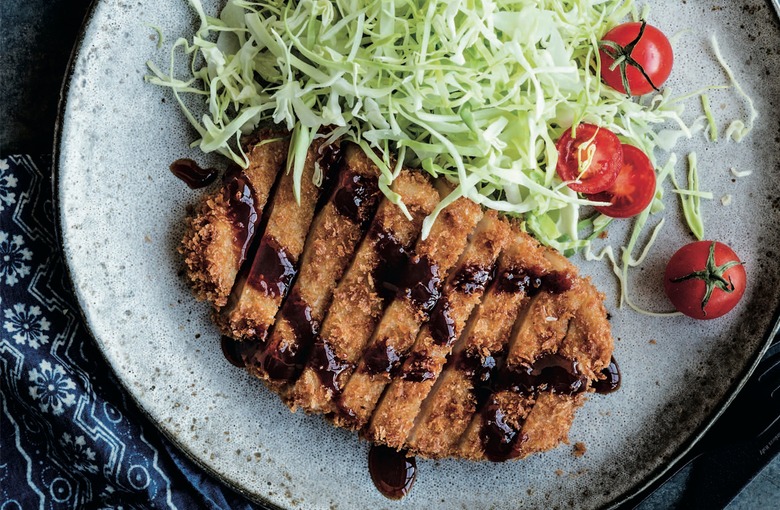 We may receive a commission on purchases made from links.
Next time you're craving Japanese food, from sushi to noodles to curry and beyond, stay home and make it yourself! Recipe developer and cookbook author Amy Kaneko's new book, Let's Cook Japanese Food, is a collection of recipes that take you through the steps to making authentic Japanese meals at home. These crispy panko pork cutlets, called tonkatsu, are a great place to start. 
In Japan, restaurants specializing in tonkatsu offer the customer a variety of pork cuts, including hire (lean cut), rosu (fattier cut), and kurobuta ("black pig" from prized Berkshire pigs). A large heap of finely shredded, crisp green cabbage is served alongside the fried pork.
Crunch Into These Crispy Panko Pork Cutlets
Author Amy Kaneko's new book, Let's Cook Japanese Food, brings simple Japanese food to your home kitchen. Start with these crispy panko pork cutlets.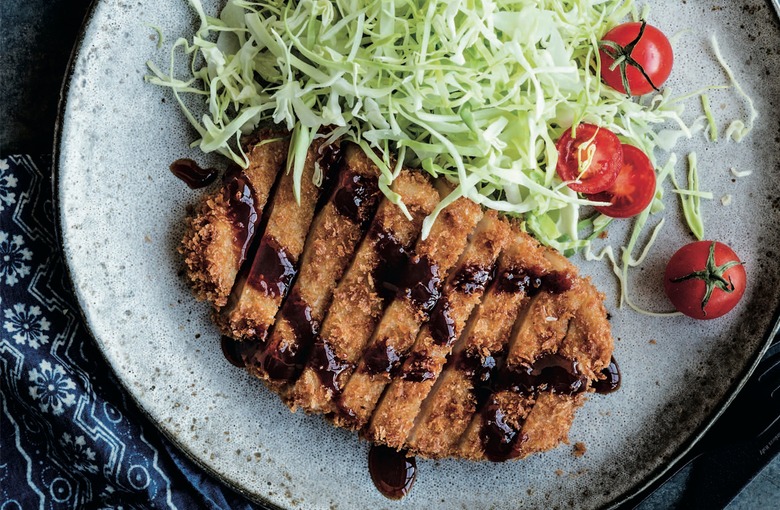 Ingredients
Canola or other neutral oil for deep-frying
2 cups all-purpose flour
1 large egg
About 4 cups panko
1 teaspoon salt
4 boneless pork loin chops
Tonkatsu sauce for serving
Karashi (optional) for serving
cherry tomatoes
Directions
:::katsu:::
In a wok or deep, wide saucepan, pour 3 inches of oil and heat to 350ºF on a deep-frying thermometer or until a bit of panko dropped into the hot oil rises immediately to the surface.
Meanwhile, spread the flour in a small, shallow bowl. Break the egg into a second bowl and beat with chopsticks or a fork until well blended. Spread 3 cups of the panko in a third shallow bowl. Sprinkle a little panko on a flat plate.
Lightly salt both sides of 1 cutlet, dust with flour, shaking off any excess, and coat with the egg and then with the panko. Using your fingertips, lightly press the panko in place and set the cutlet on the prepared plate. Repeat with the remaining cutlets, adding more panko to the bowl as needed.
When the oil is ready, add 1 or 2 cutlets to avoid crowding and fry, turning often, until very crispy and medium brown, about 6 minutes. Using tongs, transfer to a wire rack or paper towels to drain. Repeat with remaining cutlets.
Cut the cutlets crosswise into narrow strips, reassemble on individual plates, and drizzle with tonkatsu sauce. Add a dab of karashi (if using) on the side. Serve the cabbage with tonkatsu sauce and a little mayonnaise, if desired, and tomatoes alongside.
:::varitation: Katsudon (Pork Cutlet and Egg over Rice):::
Fry 2 cutlets as directed and cut into bite-sized strips. In a frying pan, simmer 1 tablespoon sake, 3 tablespoons soy sauce, 2 tablespoons mirin, 1½ tablespoons sugar, and 1 cup chicken broth. Add ½ cup thinly sliced yellow onion and cook until soft, about 5 minutes. Add 2 beaten eggs, cover, and cook until just set. Add pork and 2 more beaten eggs, cover, and cook about 1 minute. Divide between 2 bowls of rice.