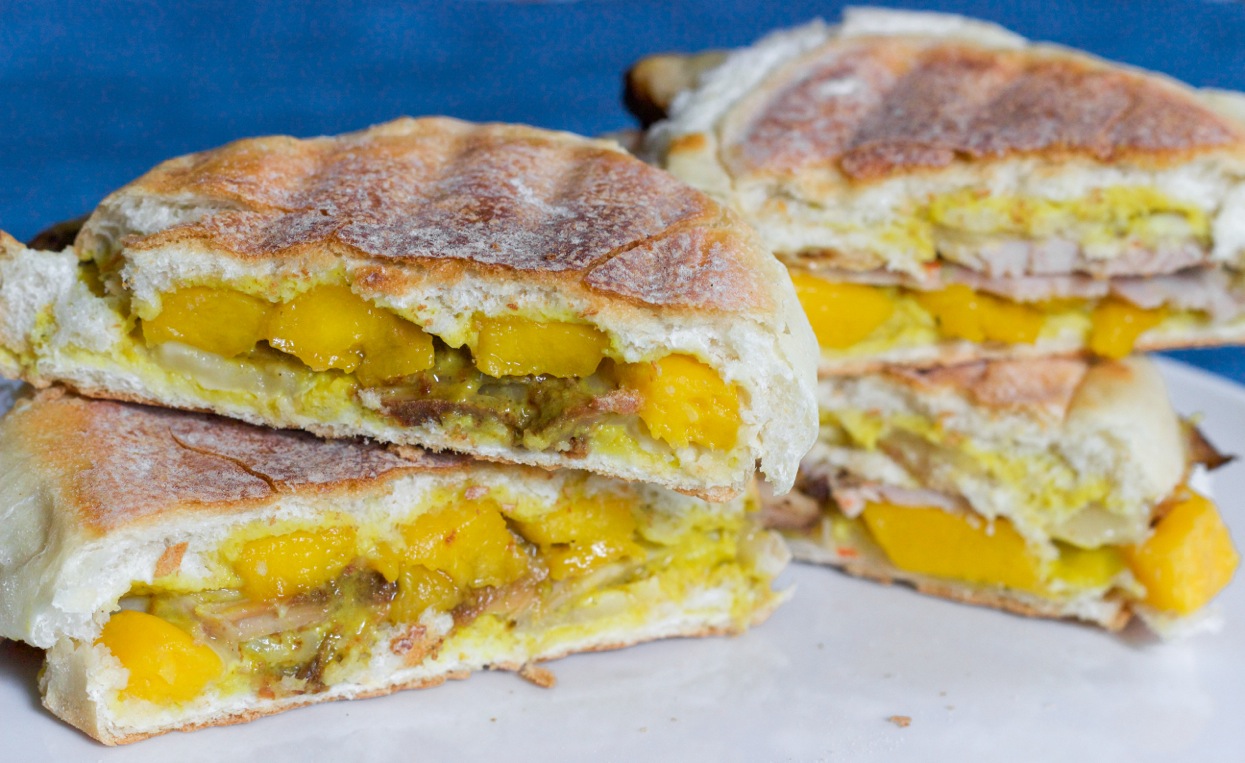 You'd be hard "pressed" to find a better sandwich than a good Cuban. Great crusty bread, slow-cooked pork, melted Swiss, bright pickles and neon yellow mustard all come together to form a melted magical experience. Veering slightly off the Havana turnpike and spinning this classic ever so slightly, we modernize the dearly beloved sandwich with pickled mango, a fiery yet refreshing grapefruit mojo mustard and roast pork for days.
Ingredients
Grapefruit Mojo mustard
1

grapefruit, zested and juiced

1

teaspoon

fresh oregano

1

teaspoon

fresh mint

1

jalapeno, seeds and ribs removed

1

lime, zested and juiced

kosher salt, to taste

1

cup

Yellow mustard
Pickled Mango
1

cup

water

1

cup

cider vinegar

4

cilantro stems, rinsed to remove any dirt

4

mint stems

1

teaspoon

coriander seed

1/2

teaspoon

cumin seed

1/2

teaspoon

whole clove

1/2

teaspoon

whole allspice

1/4

cup

sugar

pinch of

kosher salt

1

mango, not too firm, not too soft, sliced into 1/2-inch pieces
Roasted Pork
6

- 8 pounds

bone-in pork shoulder

6

cloves

garlic, peeled

3

limes, zested and juiced

2

jalapeños, seeds and ribs removed

1

tablespoon

fresh rosemary

1

tablespoon

fresh oregano

2

tablespoons

fresh cilantro

2

tablespoons

fresh mint

1

teaspoon

cumin

a pinch of

ground cinnamon

1/2

teaspoon

Chipotle puree

kosher salt, to taste

olive oil, as needed
For Assembly
12

slider rolls, mini Portuguese buns or brioche rolls

1/2

pound

pepper jack cheese, thinly sliced
Directions
For the grapefruit mojo mustard:
Combine everything except the mustard in a blender and purée until smooth.
Adjust seasoning with salt.
In a bowl, whisk together with the mustard.
For the pickled mango:
Combine all ingredients except for the mango in a medium saucepan and bring to a boil to dissolve the sugar.
Cool to room temperature.
Place the mango in a large mason jar or other container and pour the brine over it.
Seal the jar and refrigerate until ready to use. Pickles will last for about a week in the fridge and are even better the next day.
For the roasted pork:
In a blender, combine all ingredients except for the pork and olive oil.
Purée until smooth, thinning with water or oil as needed.
Coat the pork all over with marinade and place in a large container to marinate overnight.
Remove from the fridge and pre-heat the oven to 375°F.
Place the pork on a large roasting pan and season all over with salt.
Roast the pork, rotating the pan every hour, until the pork registers 160°F, about 3 hours.
Increase the oven to 425°F and cook the pork until the skin is very crispy, another 15-25 minutes.
Remove from the oven and let rest at least 15 minutes before slicing into thin pieces.
You may have leftovers, this is a good thing. Remove the top layer of skin separately and enjoy the crunchy cracklings as a snack.
For Assembly:
Build the sliders by spreading each half of bread with the mojo mustard, and top with slices of pork, cheese and pickled mango.
Pre-heat a grill pan or large griddle over medium heat.
Add the sliders, working in batches, and slowly cook them until the bread toasts, the cheese melts and the filling is warmed through.
Press down with a heavy spatula or your hands to help them flatten, flipping as needed. They should take about 6-9 minutes per sandwich.
Find more awesome sliders on Food Republic: