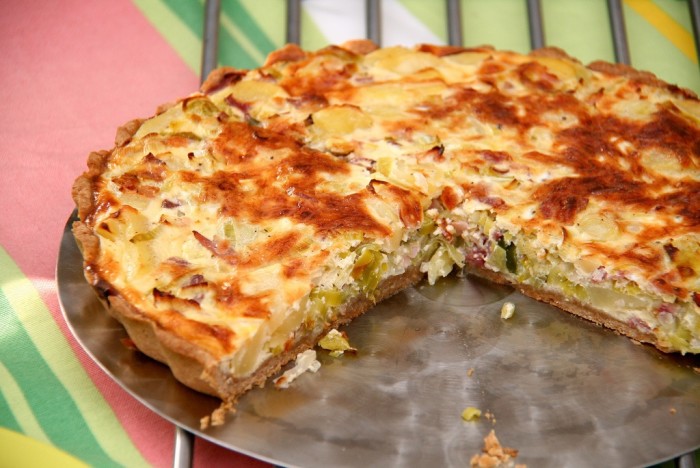 It's happened. I am officially a member of the society of those who, with astounding regularity, find themselves fondly reminiscing the good old days. Trouble is, they were the 1980s, not our most sophisticated decade. Microwaves were the modern kitchen's savior and Tuna Helper's sodium levels were never questioned. But in stark contrast, my own working mom was a pioneer forging home-ec trails. She was turning out homemade curries and crêpes while most moms were choosing canned Chow Mein and calling it Oriental Night.
We've seen '80s nostalgia cropping up in music and fashion, but surprisingly I've also found my cooking beginning to mimic that sentimentality. More and more I find homemade quiche fits the bill, any meal, any day. It is, after all, a versatile, inexpensive nod to the decade of my youth. But instead of sticking with the mushrooms and swiss of yore, I have taken quiche into 2011 by using ingredients like pancetta and cilantro. I like to call them "uniquiches." (Try to say that three times fast.)
Now if I could just outfit my husband with that retro "Real Men Eat Quiche" t-shirt he's been coveting, all would be right in the world.
Ingredients
5

eggs

1

cup

2% milk

1/4

pound

pancetta, diced and browned

3/4

cup

sharp cheddar cheese

1/3

cup

red onion, finely diced

1/2

cup

cilantro, chopped

1

teaspoon

cumin

Refrigerated pie crust
Directions
Preheat oven to 350 degrees. Place crust in a lightly greased pie plate and prick with a fork along the sides and bottom. Then I like to blind bake* it for about 15 minutes.
*To blind bake a crust you simply line the inside with parchment paper, foil or even a coffee filter filled with about two cups of dried beans or rice. You can prep the rest of your ingredients while the crust is blind baking. And isn't that just a cool term anyway? Dude, I gotta go blind bake my crust now. Catch ya later.
So you'll chop up the pancetta and brown it. Dice up the onions and cilantro. Shred the cheese, if you haven't procured it that way. Beat the eggs and milk and mix the other ingredients in.
Pour mixture into your now nicely golden pie shell (you took out those beans) and bake an additional 30 minutes. Knife should come out clean, and after letting it cool for 5 minutes, slice and serve.