Pancakes Of Our Dreams: Bacon, Egg And Cheese "Paco"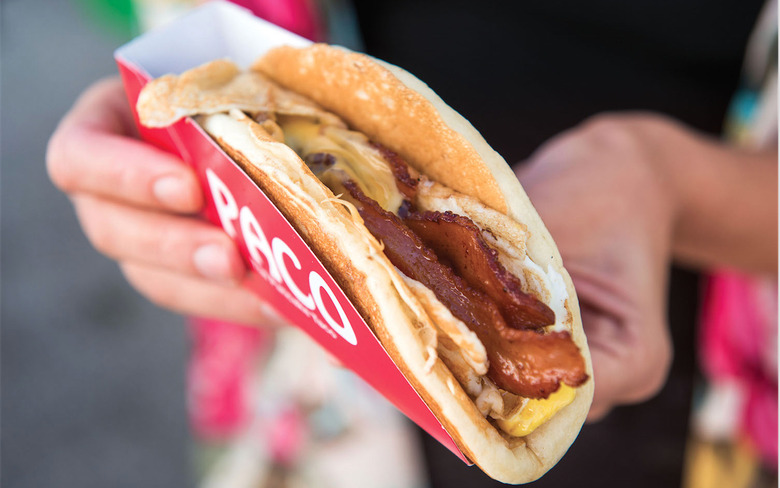 We may receive a commission on purchases made from links.
Longtime FR contributor Adeena Sussman has a new cookbook out, and when she launches a book, we go nuts. Cook your way through America's Best Breakfasts and make sure you stop in Miami for the best pancake breakfast taco you've never had. Here's an excerpt from the book that will appeal to breakfast lovers from all walks of life. 
Crispy bacon, melted cheese, and creamy eggs — all stuffed inside a soft, sweet pancake? This we had to try. We found the FOAR truck early on a Sunday morning, ready to serve their creative offerings to an "enwraptured" (you'll forgive the pun) audience. Unlike most pancakes, where the batter is gently mixed just until incorporated, these are worked a bit more to develop the gluten, resulting in a sturdier envelope for classic breakfast fillings.
Pancakes Of Our Dreams: Bacon, Egg And Cheese "Paco"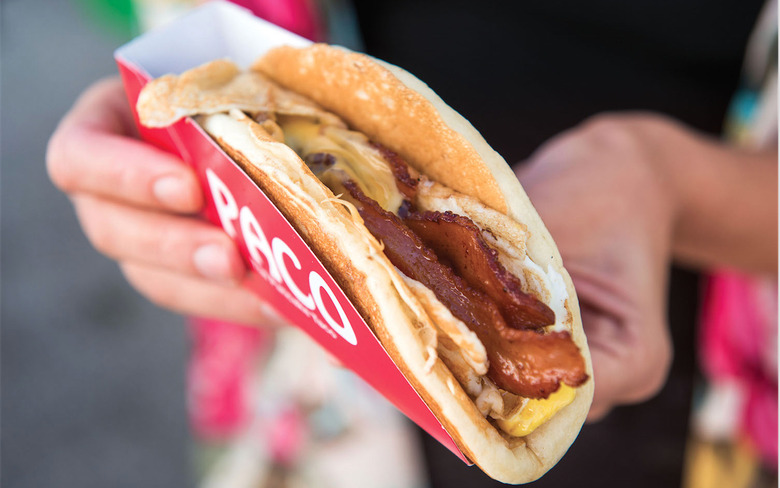 Ingredients
1 1/2 cups all-purpose flour
5 teaspoons baking powder
3 tablespoons sugar
1 teaspoon kosher salt
1 1/2 cups milk
2 large eggs
3 tablespoons canola oil
1 teaspoon vanilla extract
12 slices hardwood-smoked bacon
6 large eggs
Kosher salt and freshly ground black pepper to taste
6 slices American cheese
Good-quality maple syrup
Directions
:::pancakes:::
Preheat the oven to 200°F. In a medium bowl, whisk together the flour, baking powder, sugar, and salt. In a large bowl, whisk together the milk, eggs, oil, and vanilla. Add the dry ingredients to the wet and mix for about 1 minute, until well incorporated. Heat a griddle or a nonstick skillet over medium-low heat and brush lightly with oil or butter. Ladle out 1⁄2 cup batter per pancake and cook until puffed and golden brown, 1 to 2 minutes per side. Transfer to a plate and keep warm in the oven, loosely covered, until ready to serve. Repeat with the remaining batter.
:::fillings:::
On the same griddle or skillet, cook the bacon over medium-high heat until it begins to crisp, 2 to 3 minutes per side. Transfer to a paper towel–lined plate to drain and keep warm in the oven, so it does not get leathery. Remove and discard all but 2 tablespoons of the bacon grease, then cook the eggs over easy, seasoning them with a pinch of salt and pepper.
To serve, lay a pancake on a plate, place 2 bacon strips on half of the pancake, then top with an egg and a slice of cheese. Drizzle with maple syrup, fold over the other half, and serve immediately. Repeat with remaining ingredients.