Pan-Fried Okra With Caramelized Onions And Yogurt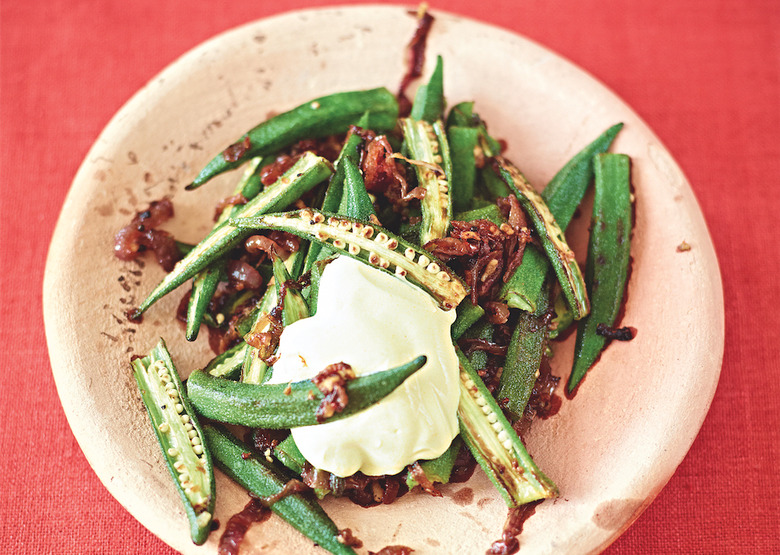 We may receive a commission on purchases made from links.
Hankering for the kind of Indian food you can't get at your local "Curry in a Hurry"? That's because Indian food should be cooked at home in small batches for people you love, and that's what London-based chef and writer Meera Sodha brings to the table in her new cookbook, Made in India. Say good-bye to soggy okra floating in a nondescript sauce and say hello to your favorite new vegetarian dinner. 
The Gujarati people love okra, especially in a yogurt and chickpea sauce that we call kadhi. It sets a Gujarati heart aflutter. Okra can turn gloopy when cooking, though, because the seeds don't like moisture very much. I've found the best way to deal with this is to fry the okra on a high heat and in small batches so that they crisp up nicely. You can then toss them with the onions and cover with the sauce just before serving.
Pan-Fried Okra With Caramelized Onions And Yogurt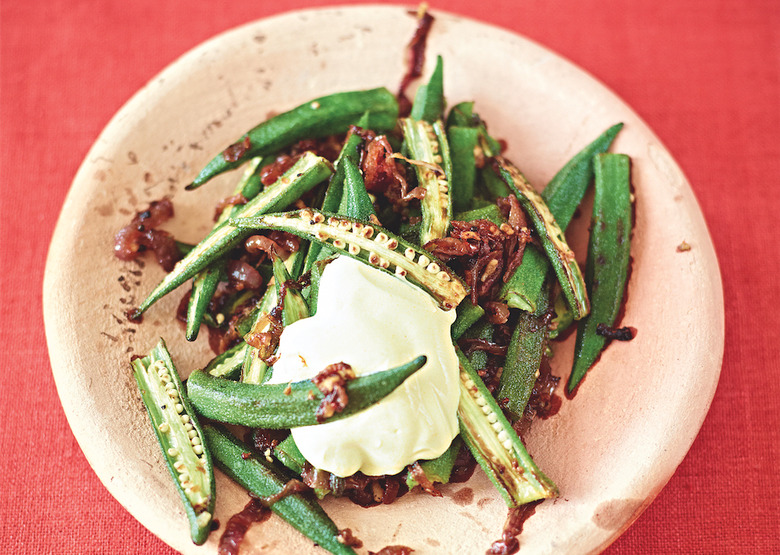 Ingredients
1-inch piece of ginger
6 cloves of garlic
salt
5 tablespoons canola oil
1 teaspoon mustard seeds
2 large red onions
3/4 teaspoon chili powder
1 teaspoon ground cumin
1 1/2 pounds okra
3/4 cup whole-milk yogurt
1 tablespoon chickpea flour (besan)
1/4 teaspoon ground turmeric
1 teaspoon salt
Directions
Put the ginger and garlic into a mortar and pestle along with a pinch of salt, and bash to a coarse paste.
Pour 3 tablespoons of oil into a large frying pan on a medium heat and, when it's hot, add the mustard seeds. When the seeds pop, add the red onions. When they are soft and tender, add the ginger and garlic paste, chili powder, and cumin. Carry on cooking the onions, stirring occasionally, for around 15 minutes or until they are caramelized, then tip them into a large mixing bowl.
Wipe the pan clean if need be, put 2 tablespoons of oil into it, on a high heat, and when the pan is really hot, throw in the okra, being careful not to crowd the pan and making sure that each okra is touching the bottom of the pan.
Season with salt and fry for around 4 to 5 minutes until they are nicely browned, only moving them around every minute or so. When the okra are crispy on the outside but soft to the touch, remove them from the pan and put to one side. Then repeat in small batches.
To make the sauce, put the yogurt, chickpea flour, turmeric, and salt into a pan, mix together and heat until warm but not bubbling. Take off the heat. Carefully fold together the onions and the okra in the bowl. Serve on one large plate, or divide between four plates, and spoon over the yogurt sauce. Eat with chapatis or paratha.