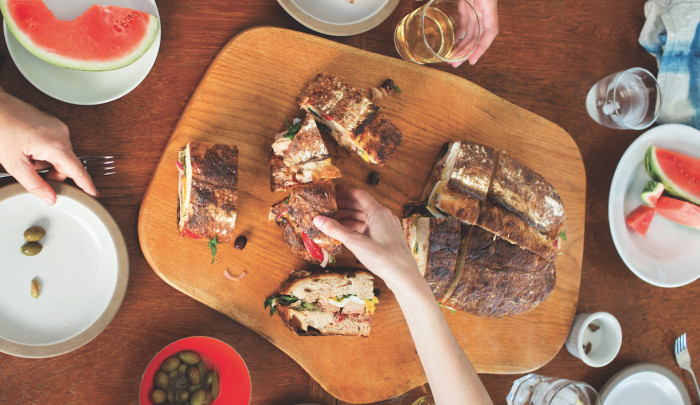 San Francisco's Tartine Bakery, cofounded by Elisabeth Prueitt and Chad Robertson, is renowned for its refined takes on the healthful, beautiful cuisine of France. Prueitt's latest collection of recipes will be your go-to guide for nutritious dishes any time of day. Expanding your French repertoire? An authentic pan bagnat sandwich is a great place to start. 
Sandwiches are an uncommon treat for me, made only possible (given my sensitivity to gluten) when I have Chad's bread, or any other bread made from a natural leaven. So when I'm making a sandwich, I want it to surpass all expectations. I want to satisfy not just one hunger, but the nostalgic hankering for all that a sandwich can be: a play of flavors and textures contained in each and every bite. It's a tall order, but this sandwich delivers. This is a sandwich we found throughout the south of France, always enjoyed with a glass of rosé.
Ingredients
1

tablespoon

red wine vinegar

1

garlic clove, minced

1/4

cup

olive oil

2

teaspoons

Dijon mustard

Pinch

sea salt

Pinch

ground black pepper

3

sprigs oregano, leaves pulled from stems

3

sprigs

majoram, leaves pulled from stems
1/2

red onion, thinly sliced

2

large tomatoes, cut into wedges

1/3

cup

pitted Nicoise olives

1

bunch

arugula

2

cucumbers, sliced lengthwise into ribbons with a peeler

5

radishes, thinly sliced
1

loaf

rustic bread

4

hard-cooked eggs, sliced

8

ounces

olive oil-packed tuna, rinsed

6

olive oil-packed or salt-packed anchovies, rinsed
Directions
For the sandwich
In a small bowl, combine the vinegar, garlic, olive oil, mustard, salt, and pepper. Add the oregano and marjoram and whisk to blend.

Combine the onion, tomatoes, olives, arugula, cucumbers, and radishes in a large bowl. Add the dressing and toss to coat.

Split the whole loaf of bread lengthwise. Rip out some of the bread from middle of the top and bottom halves (to better fit the sandwich filling). Arrange half of the vegetables on the bottom half of the bread. Layer on the eggs, tuna, anchovies, and the remaining vegetables. Pour half of the dressing (left in the bowl that held the vegetables) over the sandwich filling. Pour the remaining dressing over the cut side of the top half of the loaf, and then place the top half over the filling to close the sandwich.

Wrap the whole thing snugly in plastic wrap, place it in the refrigerator, and weigh it down with a cast-iron pan or other heavy-bottomed pan. Refrigerate the sandwich for at least 2 hours and up to overnight. Cut in wedges and serve.