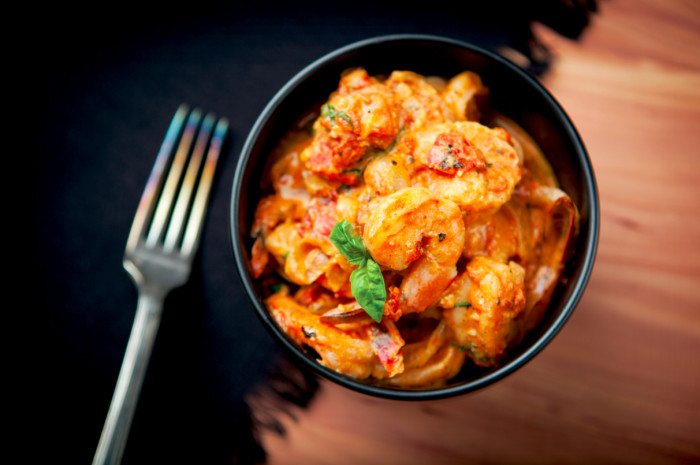 When you're not making fun of the Paleo diet, it's actually a pretty effective way to shed pounds and learn to eat healthier without sacrificing your favorite bacon. Uh, food. Grab this reliable book of Paleo-hacked comfort food and prepare to fill up on protein.
Translated from Italian, fra diavolo means "brother devil." Not sure why the "brother" part, but for certain the "devil" part has to do with the spicy kick this dish has. The creaminess of the coconut milk tones down the kick just a tiny bit, so if it's not enough heat for you, feel free to add some more red pepper flakes.
Reprinted with permission from Quick & Easy Paleo Comfort Foods
Ingredients
1

pound

extra large shrimp (16- to 20-count), peeled and deveined

2

teaspoons

crushed red pepper flakes

pinch of

Salt and freshly ground black pepper

2

tablespoons

olive oil or other cooking oil of choice

1

medium

yellow onion, peeled and sliced

5

cloves

garlic, peeled and minced

1

(14-ounce) can

diced or crushed tomatoes (San Marzano or home-canned are best)

1/2

cup

dry white wine (optional)

1/2

cup

unsweetened coconut milk

1

tablespoon

minced fresh basil
Directions
In a medium bowl, combine the shrimp, red pepper flakes and salt and pepper.
Heat the oil over medium-high heat in a large skillet that is already hot. Add the shrimp (being careful not to overcrowd the skillet) and sauté for about 2 to 3 minutes, or until just barely cooked through. If the skillet will be overcrowded, cook the shrimp in two batches. With tongs or a slotted spoon, remove the shrimp to a clean plate and set aside.
Add the onions and garlic to the skillet in which the shrimp were cooked, and sauté, stirring, until the onions are translucent, about 4 to 5 minutes. Stir in the tomatoes with their juices, wine and coconut milk, and then reduce the heat to medium and cook for about 10 minutes, or until the sauce thickens slightly.
Add the shrimp (and any accumulated shrimp juices) and the basil to the skillet and stir to blend all the flavors together.
Remove the shrimp from the heat and serve at once.
Variations: While this recipe calls for shrimp, you could easily use scallops, chicken or pretty much any other protein of your choosing. If you don't feel like a creamy dish (or you are averse to coconut), simply leave the coconut milk out.
More shrimp recipes on Food Republic: