Pack A Picnic: Chickpea, Feta And Spicy Red Onion Salad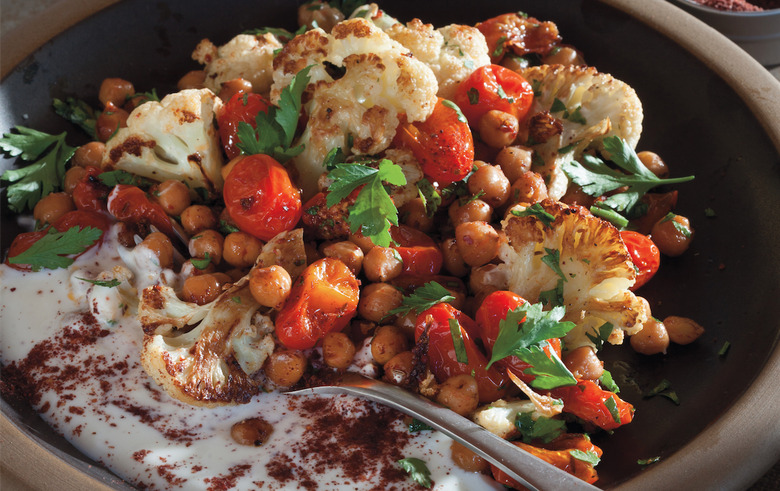 We may receive a commission on purchases made from links.
I like to pack this salad in a jar and later eat it on a plate with a pool of cool, garlicky yogurt alongside. Sumac, a spice popular throughout the Middle East, is ground from red sumac berries and adds a fruity, tart, and tannic flavor to the salad. I pack the spice in a little shaker —it can be used as a bright burst of flavor on eggs, salads, and meat.
Pack A Picnic: Chickpea, Feta And Spicy Red Onion Salad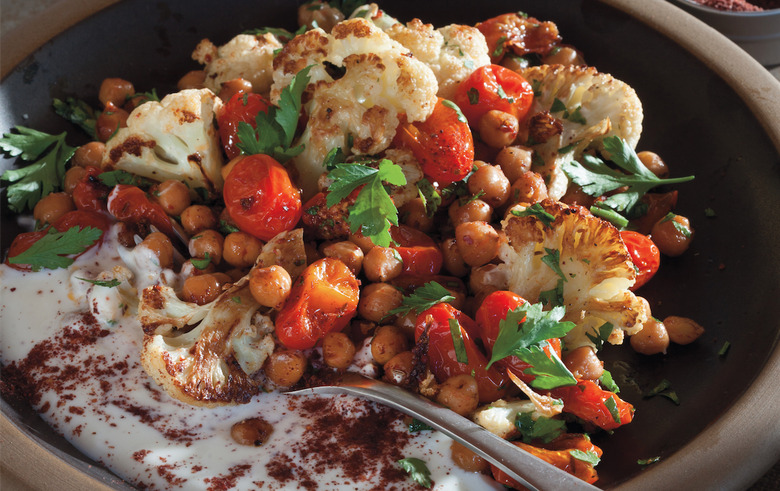 Ingredients
1 head cauliflower
5 tablespoons extra-virgin olive oil
12 ounces cherry tomatoes or other small tomatoes (about 2 cups)
1 (15-ounce) can garbanzo beans (chickpeas)
1 teaspoon lightly crushed cumin seed
1 teaspoon medium-spicy Aleppo pepper
1/2 cup chopped fresh Italian parsley
2 cups plain yogurt
1 clove garlic
Sumac for sprinkling
Directions
Preheat the oven to 425°F. Brush two large, heavy baking sheets with a little olive oil. Toss the cauliflower with 3 tablespoons of the oil on one prepared baking sheet. Spread the cauliflower out in a single layer and season with salt and pepper. Toss the tomatoes with 1 tablespoon of the oil on the second prepared baking sheet and season with salt and pepper. Roast the cauliflower until tender and well browned and the tomatoes until blistered in spots, stirring once, about 30 minutes.
Transfer the tomatoes to a plate to cool. On the baking sheet used to roast the tomatoes, toss the garbanzo beans and the remaining 1 tablespoon oil to coat. Sprinkle with the cumin and Aleppo pepper and roast the chickpeas until lightly browned and fragrant, about 10 minutes. Cool completely.
Combine the cauliflower, tomatoes, chickpeas, and parsley in a large bowl and toss carefully just to blend. Divide the vegetables between covered bowls or jars for transport. (Salad can be prepared ahead. Keep at cool room temperature up to 6 hours or refrigerate for up to 2 days.)
Stir the yogurt and the garlic to blend in a small bowl. Divide the garlic yogurt among four jars or pots. (Garlic yogurt can be made ahead and refrigerated up to 2 days.)
Spoon the salad onto a plate or shallow bowl and pour the yogurt alongside. Sprinkle generously with sumac and serve.