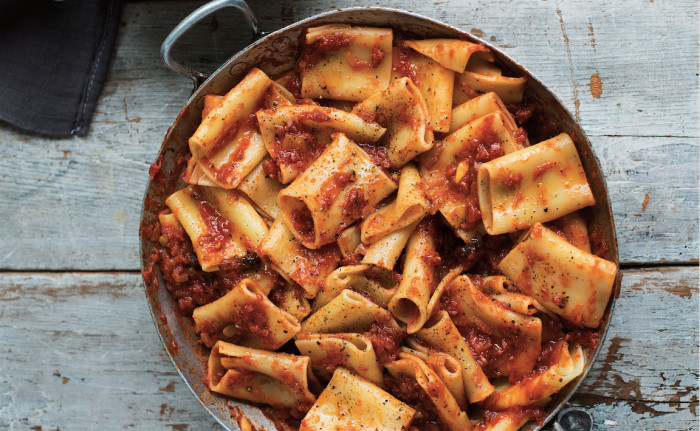 Your cookbook inventory is not complete without a volume or two from best-selling cookbook author and food writer Nancy Harmon Jenkins. The only thing better? A collection of pasta recipes cowritten with her daughter, Sara Jenkins, chef at NYC's East Village trattoria Porsena. Pick up your pasta pot and ready the extra-virgin olive oil: You know exactly what's for dinner tonight.  
Hardly a family Sunday passes in Campania without a Neapolitan ragù being cooked and eaten for lunch. Probably derived from the French ragoût, which is slightly different (more a stew than a sauce), the Neapolitans' ragù is a majestic dish all their own. It is not just a sauce for pasta, but an entire meal, and the Neapolitans are very fussy about the cut of beef chosen to make the braciola (a stuffed piece of beef similar to the beef olive). They use scamone, rump of beef.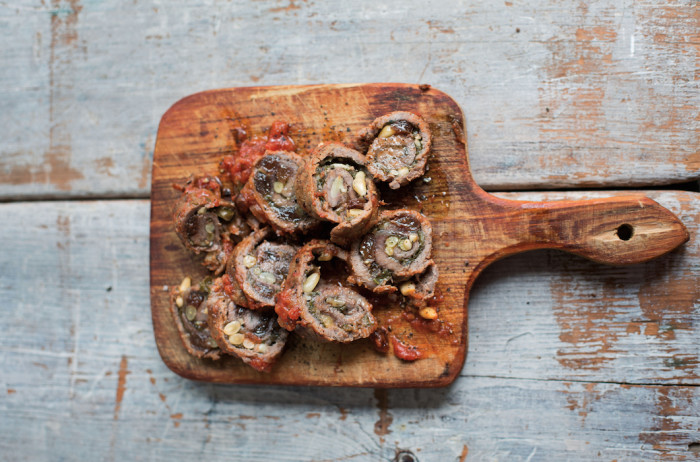 Ingredients
14

ounces

dried paccheri pasta

3/4

cup

parmesan, freshly grated

Salt and pepper, to taste
Braciole
4

large, thin slices of rump beef

2

tablespoons

coarsely chopped fresh flat-leaf parsley

1

tablespoon

raisins

1

garlic clove, peeled and crushed

1/4

cup

parmesan, freshly grated

1

tablespoon

pine kernels
Sauce
1/4

cup

olive oil

1

onion, peeled and finely sliced

3 1/2

tablespoons

dry white wine

1 3/4

pounds

canned crushed tomatoes

2

tablespoons

tomato paste
Alternatives
You could use rigatoni, vermicelli, fusilli, or maccheroni instead of the paccheri.
Directions
For the pasta
For the braciole, lay the slices of beef flat on a board. In a bowl, mix the parsley, raisins, garlic, Parmesan, pine kernels, and some salt and pepper. Divide into four portions and spread onto the beef slices. Roll these up and fix either with a wooden toothpick or bind with kitchen string.

For the sauce, put the oil in a pan and fry the onion until softened, about 4 to 5 minutes. Add the beef braciole and fry to brown on each side. Add the wine and let the alcohol evaporate for a few minutes, then add the tomatoes and the tomato paste. Stir well and let the mixture cook slowly at first, covered with the lid until boiling, then reduce the heat to a minimum. Add a little water if necessary. Cook for 1 1/2 hours, uncovered, until the braciole are very tender. Turn this occasionally, and stir the sauce. Add salt and pepper to taste.

Cook the pasta in plenty of boiling salted water for about 10 minutes or until al dente. Drain the pasta and mix with some of the sauce. Serve each portion of pasta with some of the sauce and some grated Parmesan, and then serve the braciole separately, either sliced or whole, as a second course. Sunday lunch is done!