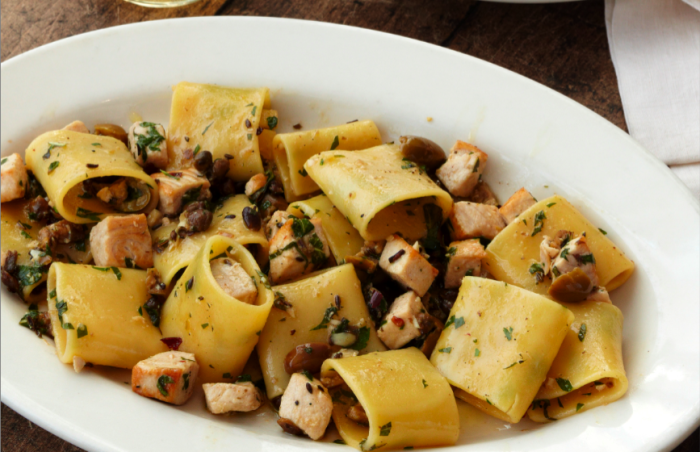 We're so happy Brooklyn cornerstone Franny's condensed their spectacular repertoire into one of the best cookbooks of the summer (along with these 6 must-reads). Prepare for homestyle Italian food of the finest quality, each recipe with its own quirky twist. This swordfish pasta may have you making more trips to the fish market.
People often think of swordfish as a strong-flavored fish, but I think that's more about its texture, which is meaty and dense. The flesh is actually sweet and mild. And for this dish, swordfish's density is an advantage, allowing for lovely, resilient chunks that can stand up to the al dente pasta. Their size and texture goes well with the pasta called paccheri (in Italian it means "a slap in the mouth") — the bits of fish nestle nicely inside the wide openings of the pasta — but you can also use rigatoni or any other large tubular shape. The pungency of chili flakes, mint and fennel seeds make a nice contrast to the gentle saline flavor of the fish.
Ingredients
1 1/2

pounds

skinless swordfish steaks, cut into 1x1x 1/2-inch chunks

Kosher salt and freshly cracked black pepper

1/2

cup

extra virgin olive oil, plus more for drizzling

3

tablespoons

salt-packed capers, soaked, rinsed and drained or drained brined capers

1/4

cup

Nocellara or Cerignola olives, pitted and roughly chopped

4

teaspoons

chopped garlic

1

teaspoon

fennel seeds, preferably Sicilian

1

teaspoon

chili flakes

1

pound

paccheri

1/4

cup

chopped flat-leaf parsley

3

tablespoons

chopped mint

fresh lemon juice
Directions
Season the fish with salt and pepper. In a very large skillet, warm 1/4 cup of the olive oil over high heat. Add the fish and cook, without moving, until browned on one side, about 2 minutes. (Cook in batches if necessary to avoid overcrowding the pan.) Transfer the fish to a platter and set aside.
In the same skillet, warm the remaining 1/4 cup olive oil over medium-high heat. Add the capers and fry until they start to brown, 1 to 2 minutes. Add the olives, garlic, fennel seeds and chili flakes and cook until everything is toasty and fragrant, about 2 minutes. Add 2 tablespoons of water to the pan. Remove from the heat.
In a large pot of well-salted boiling water, cook the pasta according to the package instructions until 2 minutes shy of al dente; drain.
Toss the paccheri into the skillet with the caper mixture, along with the swordfish. Cook over medium heat until the pasta is al dente, 1 to 2 minutes, adding more water if the sauce seems dry. Stir in the parsley and mint and season with salt, pepper and lemon juice.
Divide the pasta among four individual serving plates or bowls and finish each with drizzle of olive oil.
More Italian pasta recipes on Food Republic: