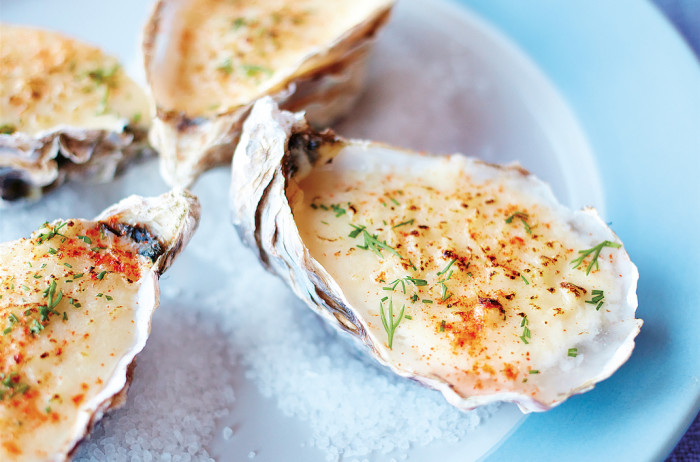 Chef Nathan Outlaw has a new collection of seafood recipes out, with a focus on budget and nature-friendly dishes the home cook will love making over and over again. From fresh salads and simple fish fillets to more complex entrées requiring a bit of technique, like these oysters with smoked hollandaise, there are tons of delicious things in Everyday Seafood for you.
This is a fun dish to serve as a warm canapé or appetizer. I really like the way oysters—and their shells—give off an amazing aroma of the sea when you broil them. The smoked hollandaise is down to the genius of my head chef, Chris Simpson. I've also cooked these oysters on a barbecue—the additional smoke works wonders, so give it a go if you get the chance. Scallops in the shell, and half lobsters are also great served this way.
Ingredients
12

live oysters

About 14

ounces

rock salt for broiling, plus extra to serve

1

lemon, peeled, pith removed and cut into sections
Smoked Hollandaise Sauce
9

ounces

smoked butter

3

egg yolks

juice of 1/2 lemon

cayenne pepper, to taste

sea salt

dill leaves, minced, to finish
Directions
For the oysters
Open the oysters and prise off the top shell. Drain off the juices. Cut the muscle to release the oyster, but leave it in the rounded shell; check for any fragments of shell.

Preheat your broiler to its highest setting and line a broiler pan with enough salt to sit the oysters on to hold them steady. (If you don't have enough salt, make small aluminum foil rings to support the oyster shells.)

To make the hollandaise, melt the smoked butter in a pan over medium heat until it begins to bubble, then remove from the heat, and leave to cool until lukewarm. Meanwhile, put the egg yolks and lemon juice in a heatproof bowl over a pan of hot water set over medium-low heat, making sure the base of the bowl is not touching the water. Whisk until the mixture thickens enough to form ribbons when you lift the beaters.

Remove the bowl from the pan, and slowly whisk in the melted butter. Once it is all incorporated, season the hollandaise with cayenne pepper and salt. Taste and adjust the seasoning as necessary, adding a little more lemon juice too, if you think it is needed. Keep warm while you broil the oysters.

Lay the oysters in their shells on the prepared pan, and place under the broiler for 3 minutes. Remove from the broiler. Place a lemon section on each oyster and then spoon on some hollandaise. Put back under the broiler for a minute or so, until the hollandaise is just starting to brown.

Finish with a sprinkling of chopped dill, and a little more cayenne pepper. Serve immediately, on a bed of salt.