How To Make Authentic Oysters Rockefeller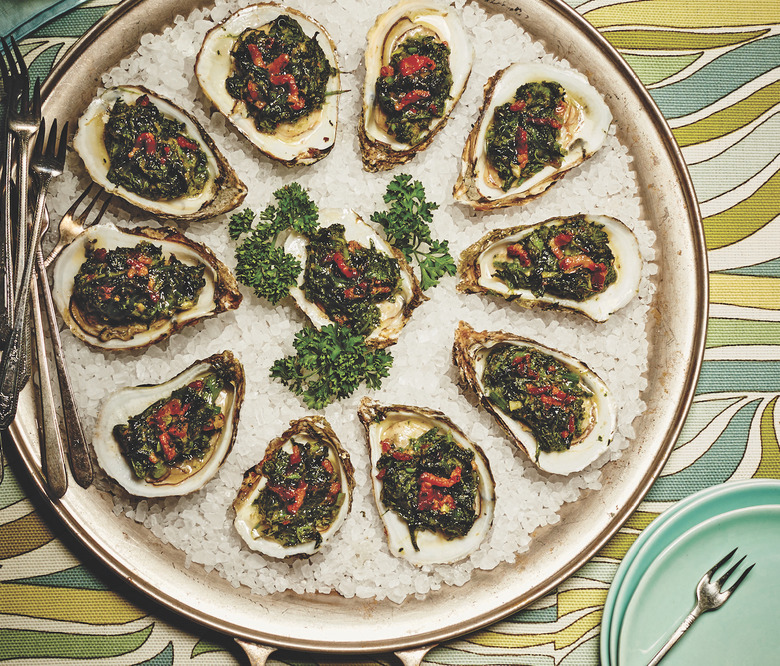 We may receive a commission on purchases made from links.
If you need triple-tested, much-beloved recipes for your favorite Southern comfort foods, turn to the experts at Southern Living magazine's test kitchen. Craving a new spin on an old favorite? The editors' new collection, Recipe Revival, is stacked and loaded with everything you need to know to churn out perfect batch after perfect batch. Learn how to make authentic oysters Rockefeller.
Created by Jules Alciatore at the famed New Orleans restaurant Antoine's, oysters Rockefeller dates back to 1899. The original recipe remains a mystery (a spinach-watercress debate still persists), but a true Rockefeller riff is bold and vibrant with freshly blended herbaceous ingredients and a splash of anise-flavored liqueur. The name? Inspired by the buttery richness of Alciatore's dish.
How To Make Authentic Oysters Rockefeller
Turn to the experts at Southern Living magazine's test kitchen for an authentic oysters Rockefeller recipe you'll use again and again.
Servings
36
as an appetizer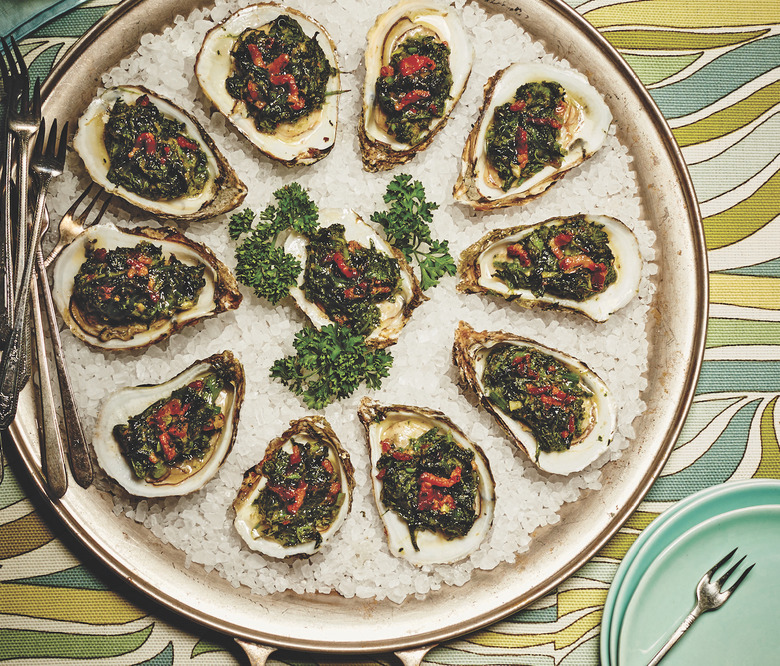 Ingredients
rock salt
4 bacon slices
1/4 cup butter
1/2 cup all-purpose flour
2 cups frozen chopped spinach
1/2 cup finely chopped green onions
1/2 cup finely chopped fresh flat-leaf parsley
1/2 cup oyster liquor (reserved oyster liquid)
2 garlic cloves
1/8 teaspoon ground red pepper
1/4 cup Absinthe
3 dozen oysters in the half shell
Directions
Put a 1⁄2-inch layer of the rock salt in 2 large jelly-roll pans.
Cook the bacon in a large skillet over medium heat 4 to 6 minutes or until crisp; drain, reserving drippings in skillet.
Add the butter and the flour to hot drippings; cook, stirring constantly, 3 to 5 minutes or until golden brown. Add the spinach and the next 5 ingredients. Bring to a simmer. Cook, stirring occasionally, 10 minutes or until very thick. Remove from heat. Stir in the absinthe and bacon, and add table salt to taste.
Preheat the broiler with oven rack 6 inches from heat. Arrange 18 oysters on salt in prepared pans; top with the spinach mixture. Broil 4 to 6 minutes or until lightly browned.