Veg Out! Oven-Baked Falafel With Radishes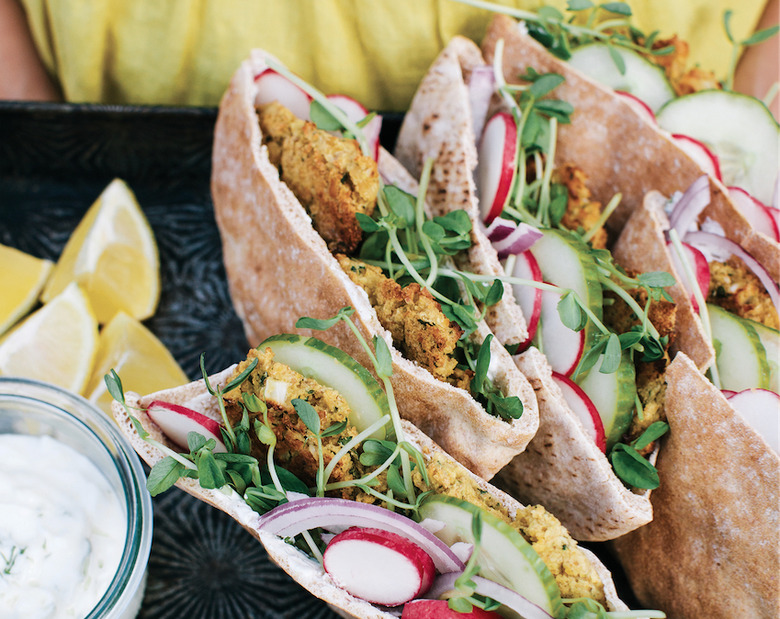 We may receive a commission on purchases made from links.
Feeding your family a healthy (and exciting) diet can be a challenge on busy weeknights. Simplify things with food writing and cookbook author Sarah Waldman's new collection of recipes, and never wonder what to make again! This oven-baked falafel pairs perfectly with crisp, zingy radishes for a satisfying vegetarian meal the whole family will enjoy. 
This is a perfect dinner for nights when your cupboards are bare (I seem to always have these ingredients hiding someplace) and your energy is low (just whizz everything in the food processor and bake). Depending on your family's likes, you can serve the falafel balls packed in pita pockets with yogurt sauce and fresh vegetables, on top of a large green salad, or on a platter next to other nibbles, such as olives, cucumbers, tomatoes, and tzatziki and hummus dips. In my opinion, there is no wrong way to eat a warm, homemade falafel ball (especially if you are doing so outside on the warm grass).
My sister Anna made us a version of these falafel rounds almost ten years ago. I immediately quizzed her on the recipe and have been serving it ever since. Our favorite method is to fill toasted pita pockets with falafel balls, then stuff in favorite crunchy vegetables, such as carrots, sprouts, radishes, cucumbers, or pea shoots. Here, I have included a simple yogurt sauce, but spreading the pitas with hummus works fine, too.
Kids Can: Little helpers can measure and blend the falafel ingredients and scoop and flatten the falafel balls.
For Baby: For older babies, smash a falafel ball inside a small wedge of pita bread and top with cucumber sauce. Younger babies will enjoy small pieces of falafel and thin slices of peeled cucumber.
Veg Out! Oven-Baked Falafel With Radishes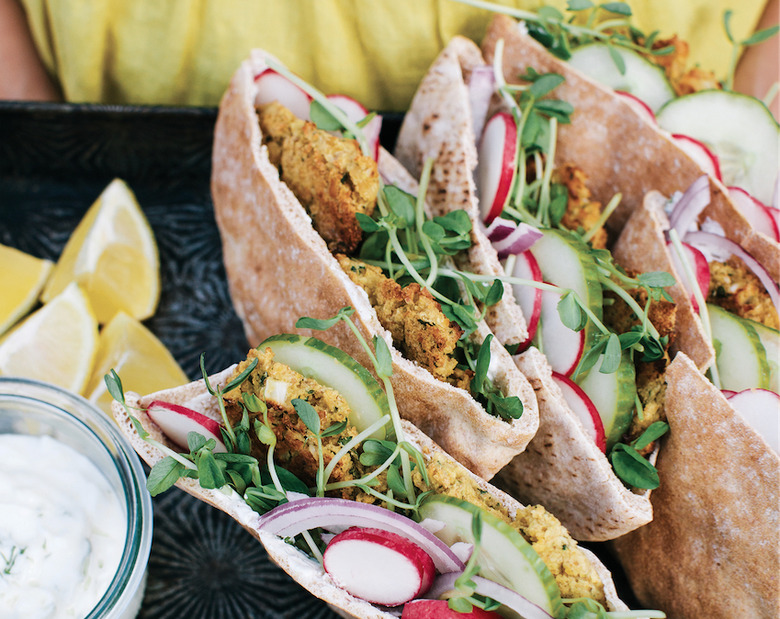 Ingredients
1/2 medium yellow onion
1 15-ounce can chickpeas
Handful fresh parsley
juice of 1/2 lemon
1 teaspoon ground cumin
1 teaspoon kosher salt
1/4 teaspoon red pepper flakes (optional)
3 garlic cloves
4 tablespoons whole-wheat all-purpose flour (or gluten-free all-purpose flour)
2 tablespoons olive oil
1 cup plain full-fat Greek yogurt
3-inch piece cucumber
juice of 1/2 lemon
1 tablespoon chopped fresh dill
Kosher salt and freshly ground black pepper
4 pita pockets or lavash
Thinly sliced cucumber
thinly sliced radishes
thinly sliced red onion
Roughly chopped pea shoots
Directions
Preheat the oven to 400°F. To make the falafel, simply whiz all the ingredients (leaving out 1 tablespoons of the olive oil) in a food processor until mostly smooth (with a few remaining chunks).
Grease a baking sheet with the remaining tablespoon of olive oil. Using a tablespoon measure, place heaping scoops of the falafel mixture on the baking sheet, then flatten them with the back the spoon. Bake the falafel rounds for 10 minutes, flip them, and then bake for another 10 minutes, until edges are crisp and tops are golden.
While the falafel bakes, mix together all the sauce ingredients in a medium bowl.
Serve the baked falafel with warm pita pockets or lavash, cucumber sauce, sliced vegetables, and pea shoots.