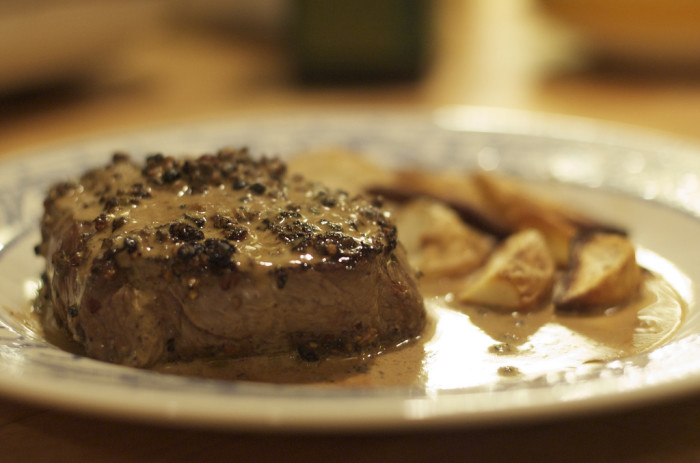 We've been talking about beef all week in our guide to beef. Now it's time for less reading, more action. Steak au poivre is one of those dishes that is easy to execute but seems fancy enough to impress whoever is lucky enough to be sharing this meal with you.
Traditionally steak au poivre is steak simply covered with coarse ground peppercorns and finished off with a pat of butter. We've created a crust that's packed with flavor and aromas, and can be used on meat, fish and vegetables too. The finishing sauce adds some richness to the dish. Pour a glass of red and dine like a king.
Ingredients
1 1/2

tablespoons

black peppercorns

1

tablespoon

allspice berries

1

teaspoon

ground cinnamon

1

teaspoon

coriander seeds

1/2

teaspoon

ground ginger

1/2

teaspoon

ground cumin

1/4

teaspoon

nutmeg

2

rib eye steaks

1

tablespoon

unsalted butter

1

tablespoon

vegetable oil

1/4

cup

heavy cream

1 to 2

tablespoons

cognac

Salt for seasoning
Directions
Bring a small saucepan of water to a boil over high heat. Add the peppercorns and boil for 30 seconds. Strain the peppercorns, place on a paper towel, and pat dry.
Combine the peppercorns, ground ginger, allspice berries, cinnamon, nutmeg, cumin and coriander seeds in a spice grinder or mortar and pestle and pulse or crush to a coarse grind.
Pat steaks dry and coat both sides with the spice mixture.
In a large sauté pan over medium high heat, add the butter and vegetable oil. Add the steaks and turn heat down to medium. Cook steaks for 3 to 5 minutes on each side, depending on thickness of steaks. You're aiming for medium rare. Remove cooked steaks and sprinkle with salt to season.
Pour off excess fat from skillet and add the cream and cognac. Scrape the fond (the brown bits at the bottom of the pan) into the cream mixture while bringing it to a boil. Cook until it has reduced enough to coat a spoon. Pour the sauce over the steaks and serve.
The spice mixture can be made up to 1 month in advance, and stored in an airtight container in a cool, dry place.
Cook's Note: If you still want flavor but are unsure of heat, blanch the peppercorns several times in fresh changes of water. The rub will be milder, but will maintain its texture.