Ottolenghi Style: Tagliatelle With Walnuts Recipe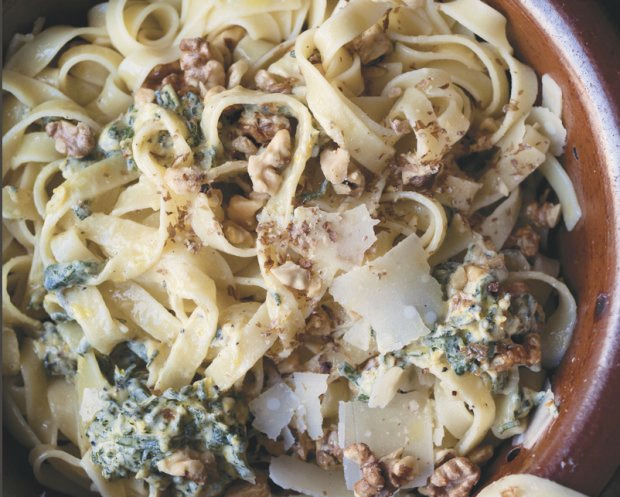 We may receive a commission on purchases made from links.
You've been waiting for the sequel, we've been waiting for the sequel — everyone's been waiting for London-based chef Yotam Ottolenghi's follow-up to his smash hit cookbook Plenty. The wait is over: Plenty More is on the shelves. Get to know the vegetarian dishes you love on a more intimate level and add a few to your repertoire. Meat-free food simply doesn't get better than this.
When this recipe was first published in the Guardian, it sparked a short discussion between two readers about the ideal quantity of pasta in a single portion. This debate demonstrates a point we always discuss at length in my test kitchen: how many people does this recipe serve? This question is almost as redundant as "how long is a piece of string?" yet all food writers engage in it seriously every time we write a recipe, because that's the convention: a good recipe must indicate the number of servings.
When I mentioned in my article that a main course should have 3 1/2 to 5 ounces of dried pasta per person, one reader accused me of greediness — though not in so many words — and claimed 2 1/2 ounces is absolutely enough, while another justified my estimate. If I am totally honest, I can eat anywhere between 3 1/2 and 10 1/2 ounces of pasta, depending on how hungry I am and, more important, how delicious it is. I am sure this applies to most people.
This is why I would like to suggest a new system of portion indication, which will take these two factors into consideration. So a recipe may "serve two people with a medium level of hunger but who are absolutely in love with white truffles," or "serve a single diner with a massive appetite but only when expertly prepared," or "will satisfy ten little stomachs when the cook is pressed for time." I think my system will illuminate the subject and both prevent food going to waste and people going hungry.
On a more serious note, this recipe is pretty simple and quick to prepare yet delivers an unexpected richness of flavors. Make sure you use fresh walnuts, without any bitterness in them.
Ottolenghi Style: Tagliatelle With Walnuts Recipe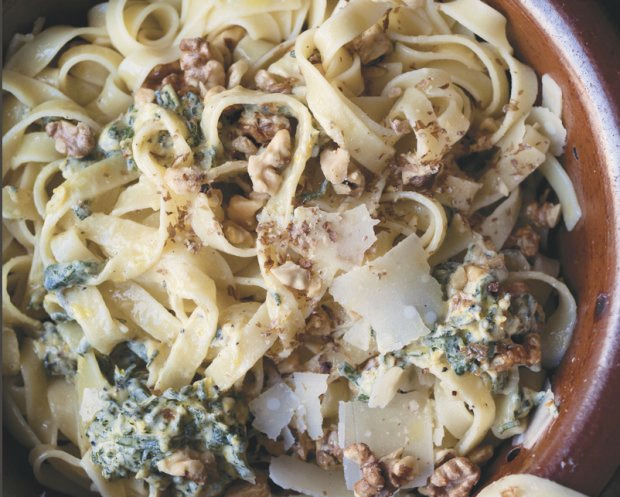 Ingredients
2/3 cup walnuts
2 tablespoons unsalted butter
1/3 cup sage leaves
grated zest of 1 medium lemon
3 tablespoons heavy cream
10 1/2 ounces tagliatelle or tagliolini
1 3/4 cups parmesan
1/2 cup flat leaf parsley leaves
2 tablespoons lemon juice
salt and black pepper
Directions
Preheat the oven to 325°F.
Spread out the walnuts on a baking sheet and roast in the oven for 15 minutes. Remove and set aside to cool.
Place a sauté pan over high heat and add the butter.
Cook for 1 minute, add the sage and fry for about 2 minutes, until the butter starts to brown.
Add the lemon zest, cream, 1/2 teaspoon salt, and plenty of black pepper and stir and cook for just a few seconds to thicken the sauce a little.
Remove from the heat at once so the cream doesn't separate. Set aside until ready to use.
Bring a large pan of salted water to a boil and add the pasta.
Cook for 8 minutes, or according to the package instructions, until al dente.
Drain, reserving a few tablespoons of the cooking liquid, and place in a large bowl.
Warm the sauce, adding some cooking liquid if it has become very thick, then add it to the pasta along with the walnuts, Parmesan and parsley.
Toss the mix, stir in the lemon juice and serve at once.
Farfalle With Gorgonzola, Ham And Peas Recipe
Pasta Cacio E Pepe Recipe
Roman-Style Spaghetti Alla Carbonara Recipe