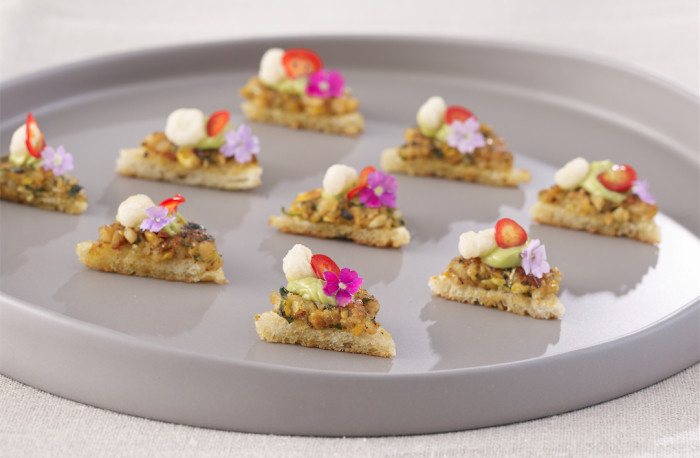 We say it all the time: It's not an awards-show party until the appetizers hit the table. Dig into renowned Oscars caterer Wolfgang Puck's award-worthy smoked hominy toasts with velvety avocado puree and pickled jalapeños. It's not hard to see why he's chef to the stars. 
So many food lovers are careful about what they eat, and in my restaurants and my catering company we always get requests for dishes that are vegetarian or vegan, or gluten-free, among others. That's why we make sure to include offerings at the Governors Ball to suit everyone's particular needs. My team created this vegetarian, gluten-free, dairy-free, bite-size hors d'oeuvre with just such requests in mind. And it also tastes delicious. Most good-size supermarkets will carry loaves of vegan bread, and you can also probably find bottled juice from the distinctive Japanese citrus fruit yuzu in the Asian foods aisle.
Ingredients
Toasts
1

medium-size ear of sweet corn, husk and silk removed

1

scallion, trimmed

1/4

teaspoon

whole coriander seeds

1/2

cup

canned cooked whole hominy, drained

1

teaspoon

smoked salt

2

garlic cloves, minced

1/2

teaspoon

sweet paprika

1/4

teaspoon

onion powder

1/4

teaspoon

ground cumin

salt

freshly ground black pepper

8

thin slices

vegan sandwich bread

canola oil
Garnishes
2

ripe medium Hass-style avocados

2

tablespoons

bottled yuzu juice, or lime or Seville orange juice

1

small jar

pickled jalapeños, drained and coarsely chopped
Directions
For the toasts
Preheat an outdoor grill, an indoor grill, a stovetop ridged grill pan, or the broiler. Grill or broil the ear of corn and the scallion, turning them occasionally, until evenly charred a dark brown color. Set aside to cool.

With the large shredding holes of a box grater/shredder, coarsely grate the corn kernels from the cob into a large mixing bowl. With a sharp knife, finely chop the scallion and add it to the bowl. Set aside.

In a small, dry skillet over low heat, toast the coriander seeds, stirring, until they turn fragrant and darken slightly in color, 1 to 2 minutes. Transfer to a bowl and set aside to cool. Then grind the coriander seeds and add them to the bowl.

Put the drained hominy in a food processor fitted with the stainless-steel blade. Add the smoked salt. Pulse the machine on and off until the hominy is coarsely pureed. Transfer the puree to the bowl. Rinse out the processor bowl and blade, dry them carefully, and reassemble.

Add the garlic, paprika, onion powder, and cumin to the bowl. Season to taste with salt and pepper. Stir with a spoon until thoroughly combined. Set aside.

With a toaster or under the broiler, toast the bread slices until very lightly browned. With a serrated bread knife, trim the crusts from each slice. Cut each slice crosswise into 4 equal squares; then cut each square diagonally into 2 triangles, to make 48 bite-size triangles. Set aside.

Halve and pit the avocados and scoop their flesh into the food processor. Add the yuzu juice and pulse the machine on and off until the avocado is smoothly pureed. Transfer to a bowl and set aside.

To assemble the toasts, spread about 1 teaspoon of the hominy puree on 1 side of each bread triangle, pressing the puree firmly and evenly onto the bread to help it adhere. Heat a large skillet over medium-high heat and add enough canola oil to coat its surface lightly. When the oil is hot enough to shimmer slightly, add as many toasts as will fit comfortably in the skillet without overcrowding, placing them hominy-side down. Sear them until the hominy mixture is golden brown, 1 to 2 minutes. Then, with a small spatula, carefully turn them over and sear their undersides for about 1 minute more. Repeat with remaining toasts.

As soon as the toasts are done, spoon some of the avocado puree on top of each one and garnish with a pinch of pickled jalapeño. Transfer to a platter and serve immediately.