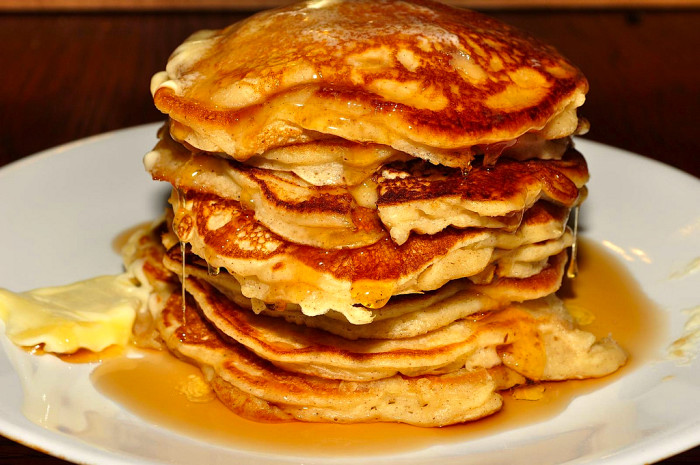 Who decided that the only flavor ricotta pancakes could sport was lemon? Does ricotta need lemon's permission or something? Orange goes way better with maple syrup — the proof is in these orange ricotta pancakes. Want even more proof? Try making them with homemade ricotta, it's a walk in the park. And while you're getting into orange-flavored brunch things, why not nail down a thoughtfully-crafted mimosa you can call your own? If you can think up a better pairing, we'd love to hear it.
Ingredients
1

cup

all-purpose flour

1

tablespoon

baking powder

1/4

teaspoon

salt

1

15-ounce container

whole-milk ricotta

2/3

cup

milk

zest of one

large orange

2/3

cup

orange juice, preferably freshly-squeezed

1/2

teaspoon

pure vanilla extract

1/4

cup

sugar

4

eggs, separated

1

tablespoon

canola oil
Directions
In a large bowl, whisk together the flour, baking powder and salt.
In another bowl, whisk ricotta, milk, orange zest, juice, vanilla and sugar until smooth and set aside.
Beat egg whites in another bowl until stiff peaks form.
Combine the ricotta mixture with the dry ingredients, then fold in beaten egg whites.
Heat a large non-stick pan over medium heat and evenly distribute canola oil over the surface.
Drop 1/4 cups of batter onto the pan to form pancakes, making sure not to crowd the pan.
Cook until bubbles appear on the surface, about two minutes, then flip and cook on the other side until golden brown.
Serve immediately with your favorite pancake accoutrements.