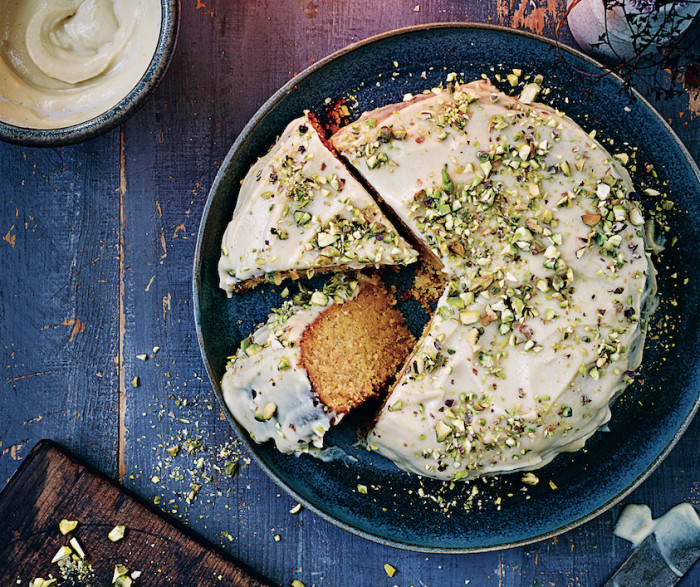 The New Vegan, a collection of recipes from dedicated herbivore Aine Carlin, is a far cry from the crunchy tomes of yesteryear. Bring your vegan repertoire up to date with this vibrant, flavor-packed recipes that don't force traditional animalistic fare into a unwilling mold. All these recipes are spot-on delicious, especially this frosted orange polenta cake.
Nothing beats the smell of this deeply sensuous cake baking in the oven. It's enough to make me lose my mind and want to scoff the entire thing in a millisecond. But (but, but, but!) patience is the key here because you'll have to wait until it's completely cool before slathering it in the unctuous cashew frosting that sends this cake from merely fantastic into the baking stratosphere — yes, it really is that good. What makes it all the more satisfying is the sheer simplicity of its construction (you really don't need to be a master baker to accomplish this one) and the über crumbly texture, which makes it the perfect accompaniment to a traditional cup of tea — take it from me, this pairing is absolute, unadulterated bliss. So, what are you waiting for? Get the kettle on, it's time for tea and cake.
Ingredients
Cashew Frosting
1

cup

cashews, soaked for at least

1/2

cup

agave nectar

Juice and zest of 1/2 orange

1/2

teaspoon

orange extract

Heaping 1

teaspoon

coconut oil

2 to 3

tablespoons

water
Cake
1

cup

polenta (or cornmeal)

3/4

cup

ground almonds

1

cup

chickpea flour

1

teaspoon

baking soda

Zest and juice of 2 blood oranges

1/2

cup

olive oil

1/2

cup

agave nectar

1/2

teaspoon

orange extract

1/2

cup

soy yogurt

2 to 3

tablespoons

crushed pistachios, to decorate
Directions
For the cake
Preheat the oven to 325°F and grease and line a 6-inch cake pan.

First, make the frosting: Drain and rinse the cashews and blend in a food processor or high-speed blender with the agave, orange juice and zest, orange extract, coconut oil, and 2 tablespoons of the water. Scrape down the sides frequently until it becomes completely smooth, adding a little more water if necessary. The frosting will go through several stages; nutty, coarse, and eventually silky smooth. You really do have to persevere to achieve the perfect frosting consistency, but don't take a shortcut by adding too much liquid. Keep blending and it will eventually become a shadow of its former cashew self. Refrigerate until needed.

Mix the polenta, ground almonds, chickpea flour, and baking soda together in a large bowl. Stir through the blood orange zest to ensure it is evenly distributed.

In a separate bowl, vigorously whisk together the oil, blood orange juice, agave, orange extract, and yogurt.

Make a well in the center of the flour and pour in the orange and olive oil mixture. Fold gently and transfer to the prepared cake pan.

Bake for 30 to 35 minutes. Check whether the cake is cooked by inserting a skewer to see if it comes out clean.

Once baked, let cool briefly on a wire rack before removing it from the pan. Set aside until completely cool.

Slather with the chilled cashew frosting, smoothing it around the sides with a spatula. Finally, decorate with crushed pistachios. The cake is best eaten fresh, but will keep for up to 3 days.